| | |
| --- | --- |
| instantphoto.eu NONS SL660 SQUARE | |

The NONS SL660 is an interchangeable-lens SLR camera for Fujifilm Instax Square Film. It uses the native Canon EF mount of the 135 (small) format lenses. The original small image circle of the lenses is widened by a built-in optical system (3 multi-coated optical glass lenses) to cover the full format of the Fuji Square film.

Their first camera, the original NONS SL42 was a Kickstarter project for Fuji Instax Mini Film. This camera had no further optical system, so there was heavy vignetting. This model is still availabe, but has got improvements, including an optical extender. The next model was the SL645, still for Mini Film, but a major re-design. The SL660 is a new design and for the bigger Square Film.

The Canon EF mount, fully compatible with manual EF lenses, has a focal flange distance (FFD) of 44mm. Other mounts with the same or a longer distance can be used via an adapter, like M42, Nikon F, PK, CY, OM and medium format lenses. There are no electrical contacts on the mount, so only manual mode lenses can be used which also have a manual aperture ring.

Based on their tests, NONS recommends lenses between 28mm and 58mm focal length. Lenses with longer back focal length, such as telephoto lenses and medium format lenses, do have a square shape vignetting. So do most of the zoom lenses. Based on my tests, some wider lenses work as well, but they should say: their "recommandations" are more or less the limits, otherwise there will be (heavy) vignetting.

The body of SL660 is made of CNC anodized aluminum alloy and has a nice wooden grip. With the speed dial on the camera and the aperture/distance rings on the lens you have full manual control. The roof pentaprism SLR viewfinder makes focussing easy, but doesn't show the whole square image, not even the limits in what direction ever. Framing is merely a guess. Ejection is separate, that makes multiple exposure easy. Note that the built-in optical system takes 2 stops off the 800 ISO of the Fuji Instax Film. So this comes down to 200 ISO and the 1/250s as shortest speed may be sufficient. in most cases. Prefer lenses that have a F22 stop or smaller on sunny days.

Camera features (with the help of NONS website:

Passive EF mount (no electronic signal to auto-focus or adjust electric control aperture)
Shutter Speed: 1/250 to 1 s + Bulb mode up to 999s with counter, shutter speed priority
Built-in light measuring system, aperture visible on LCD display
Film counter and battery status on LCD display
Standard hot shoe, flash sync up to 1/250
Power supply: 3200mAh internal Li-ion battery. Input: DC 5V, 1A
Film: Fujifilm instax square film, original ISO 800
Film size: 72 x 86 mm
Picture size: 62 x 62 mm
Body dimension: 135 x 131 x 92 mm
Weight: 850 g
Package contains: Camera body, body cap, USB Type-A to Type-C cable, Manual

Some pictures of the camera:



The box.



What's in the box. The camera, instructions, charging cable and an adapter for viewfinder adjustment lenses.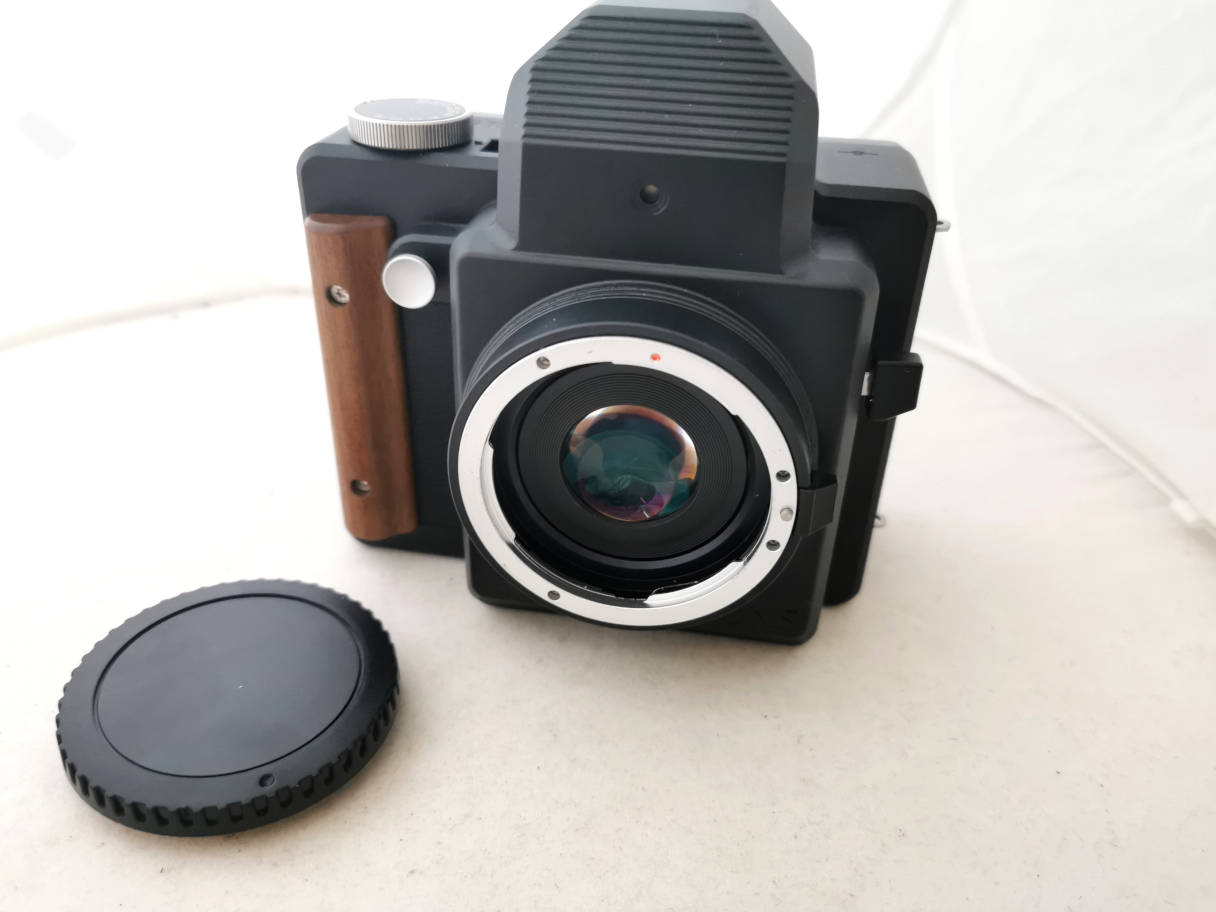 Body cap taken off.



The camera front. Note that there are half open shutter blades visible, but the system works.



Left side. Ejection slot and shutter button. You can unscrew the shutter button to have a cable release socket.



Back side with viewer and control panel. On/off switch, USB charging socket with tiny control lamp (red/green) and ejection button, has to be pressed for 2 seconds.



Right side. Mirror lever and strap lugs. After each photo the mirror has to be pushed up manually. This also arms the shutter.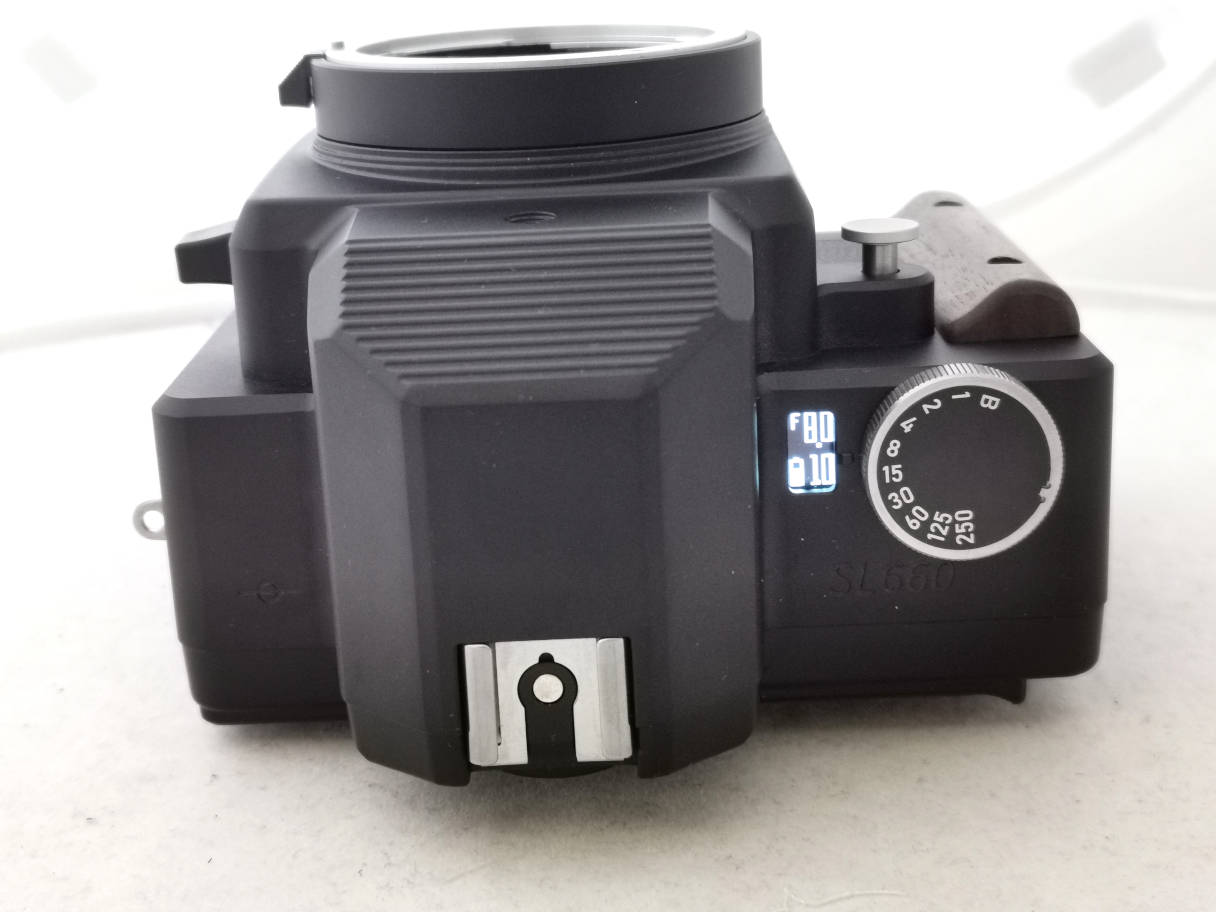 Seen from above. Speed dial, hot shoe and small LCD screen. Shows aperture to set, number of photos left and battery charge.



Seen from below. Tripod mount.



Back open.



Film chamber.



Cartridge installed.



Camera, 2 adapters and 2 lenses. A M42 adapter and a Helios 44 58mm lens and an Olympus adapter and a 21mm Olympus lens.



Olympus lens mounted.



A 28mm Macro M42 lens mounted.


Just to give you an idea, some photos, taken with this camera. I used the exposure system indications and added one stop in most situations. Scanned at 400dpi without any processing. Some data noted on the margin of the photo. The pictures are bigger on the screen than the real photos (6.3x6.3mm), the real photos in your hand look much sharper: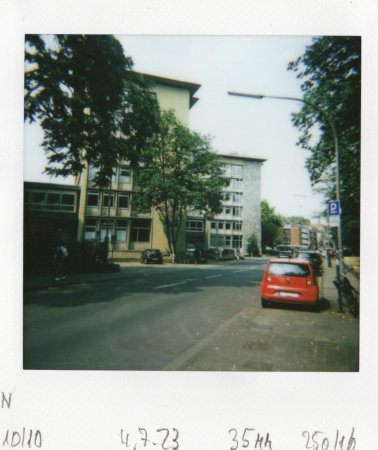 So first one in about real size, it's the last of the series.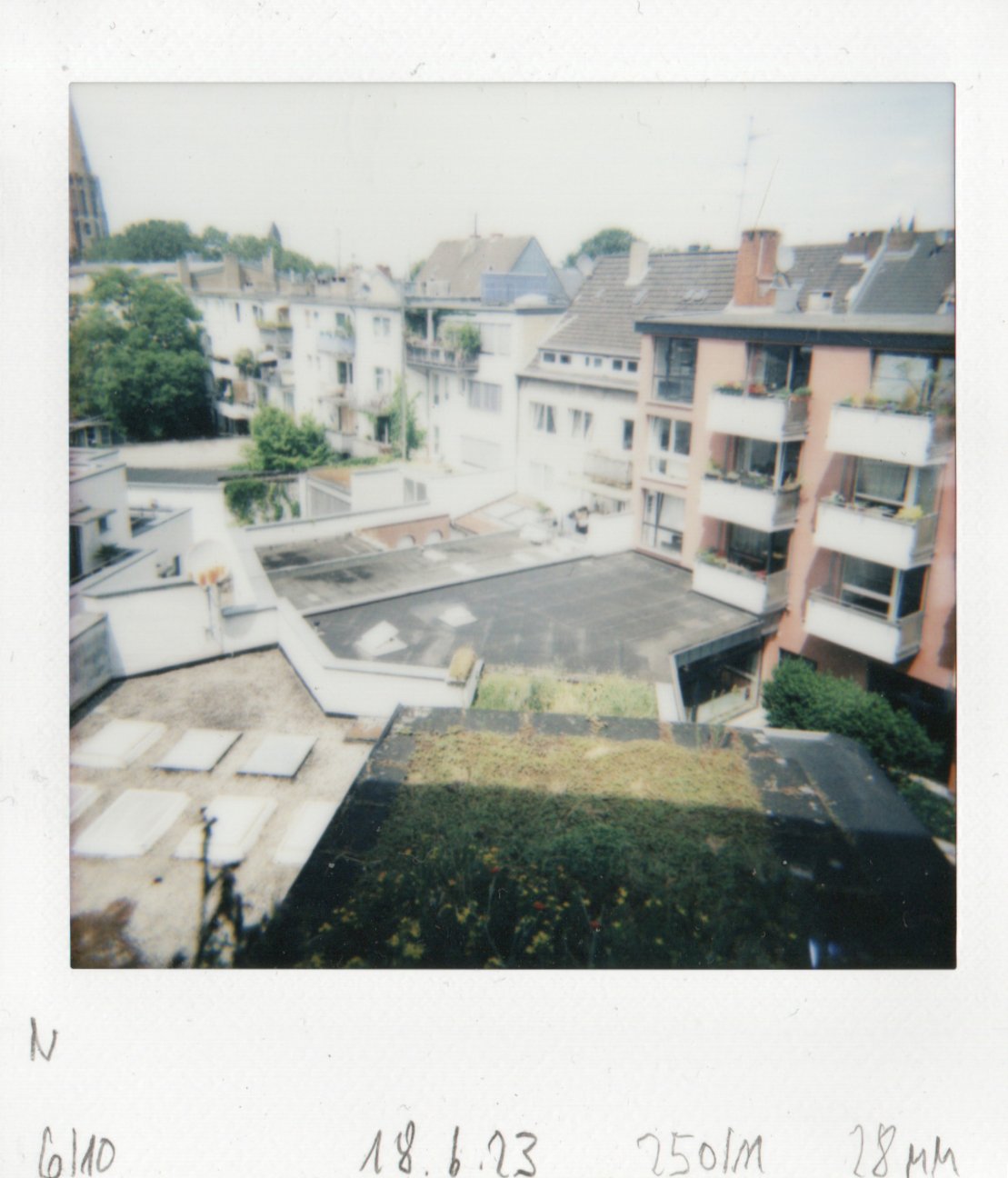 28mm M42 lens, extremely sunny day. One stop more would have been better. Cologne city center, view from my house.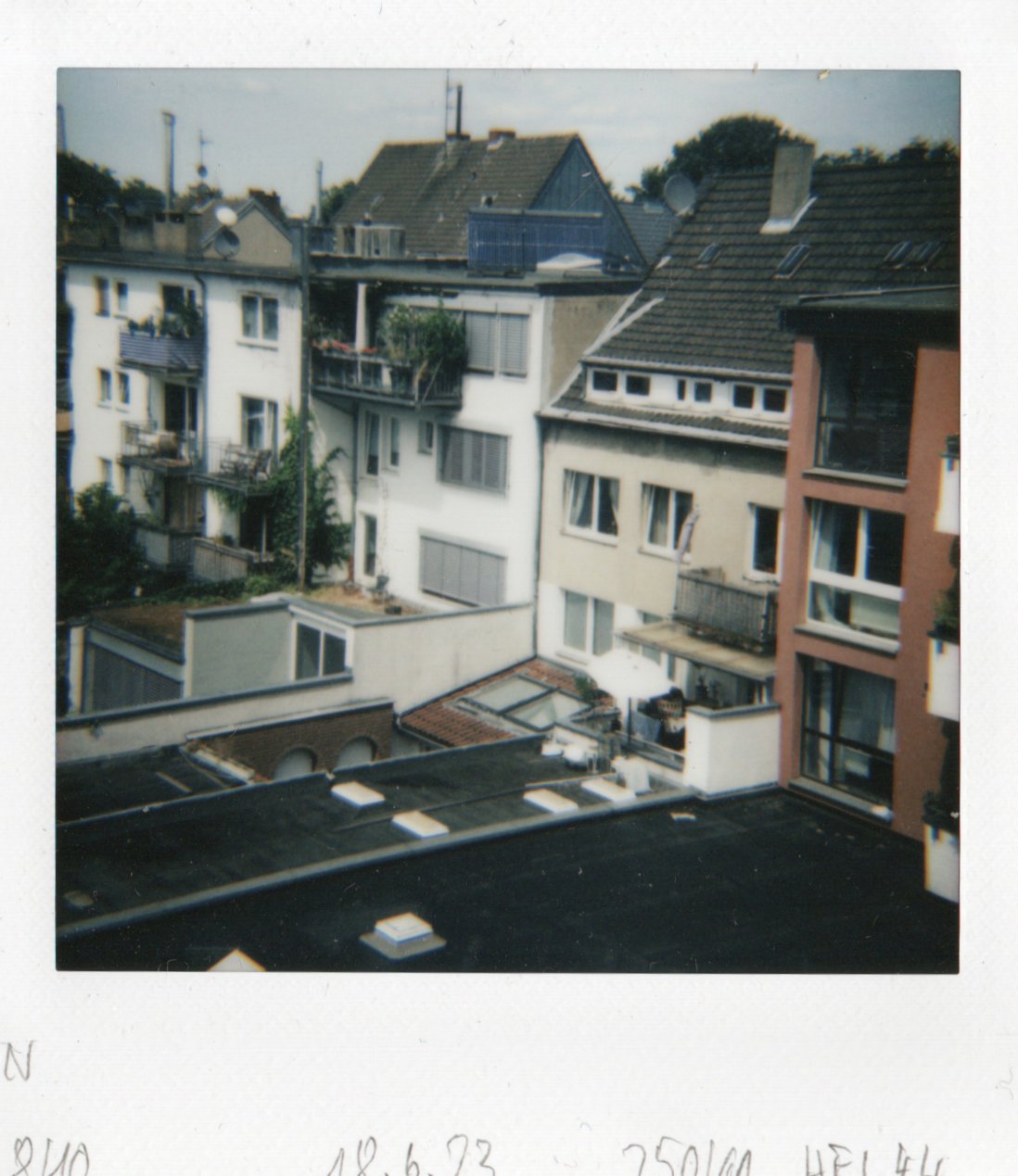 58mm M42 lens..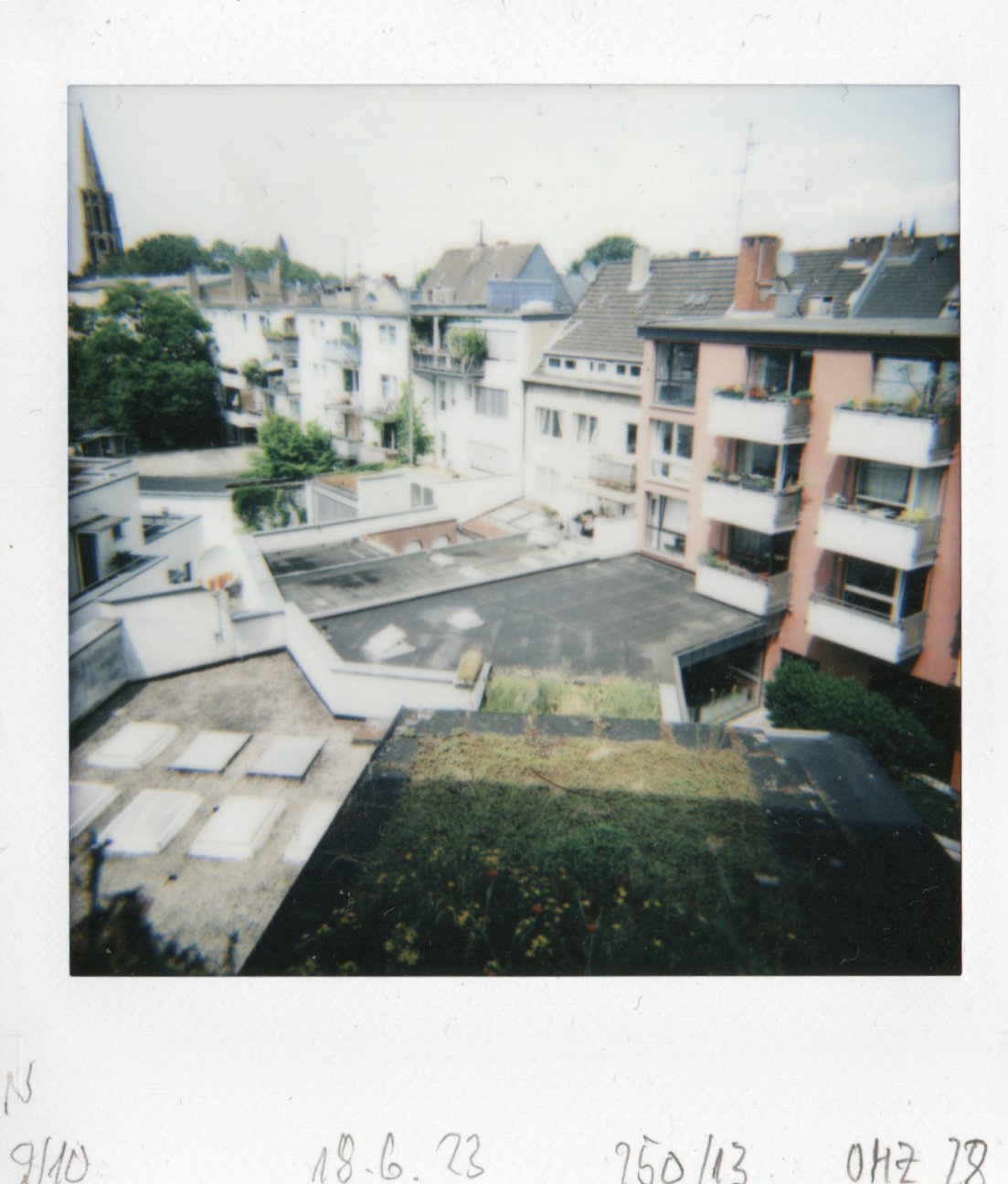 28-70mm zoom lens at 28mm. No vignetting, extremely sunny day.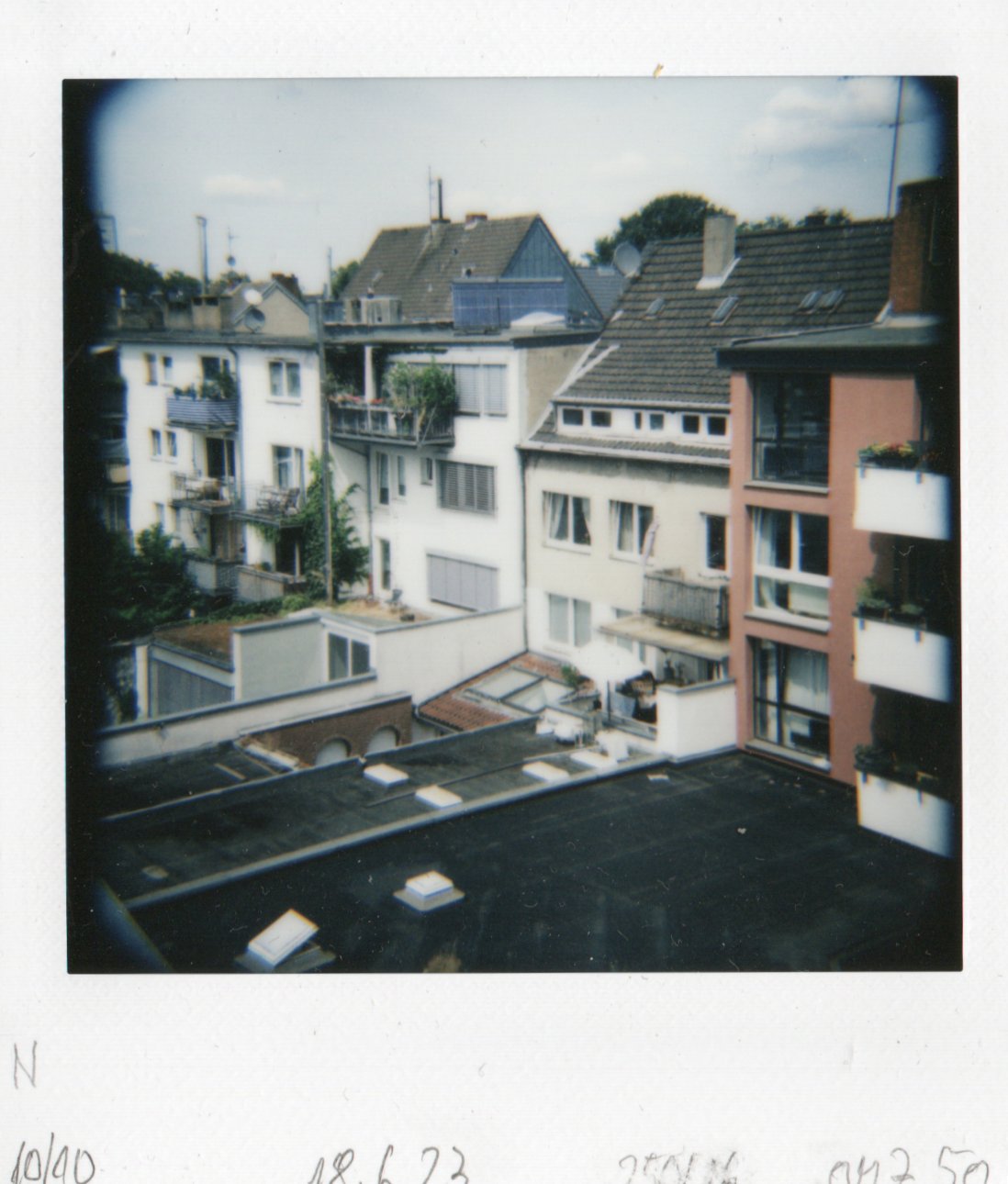 28-70mm zoom lens at 50mm. Some vignetting.

Please note that the black frame film was expired. So there are sometimes little unexposed edges at the top.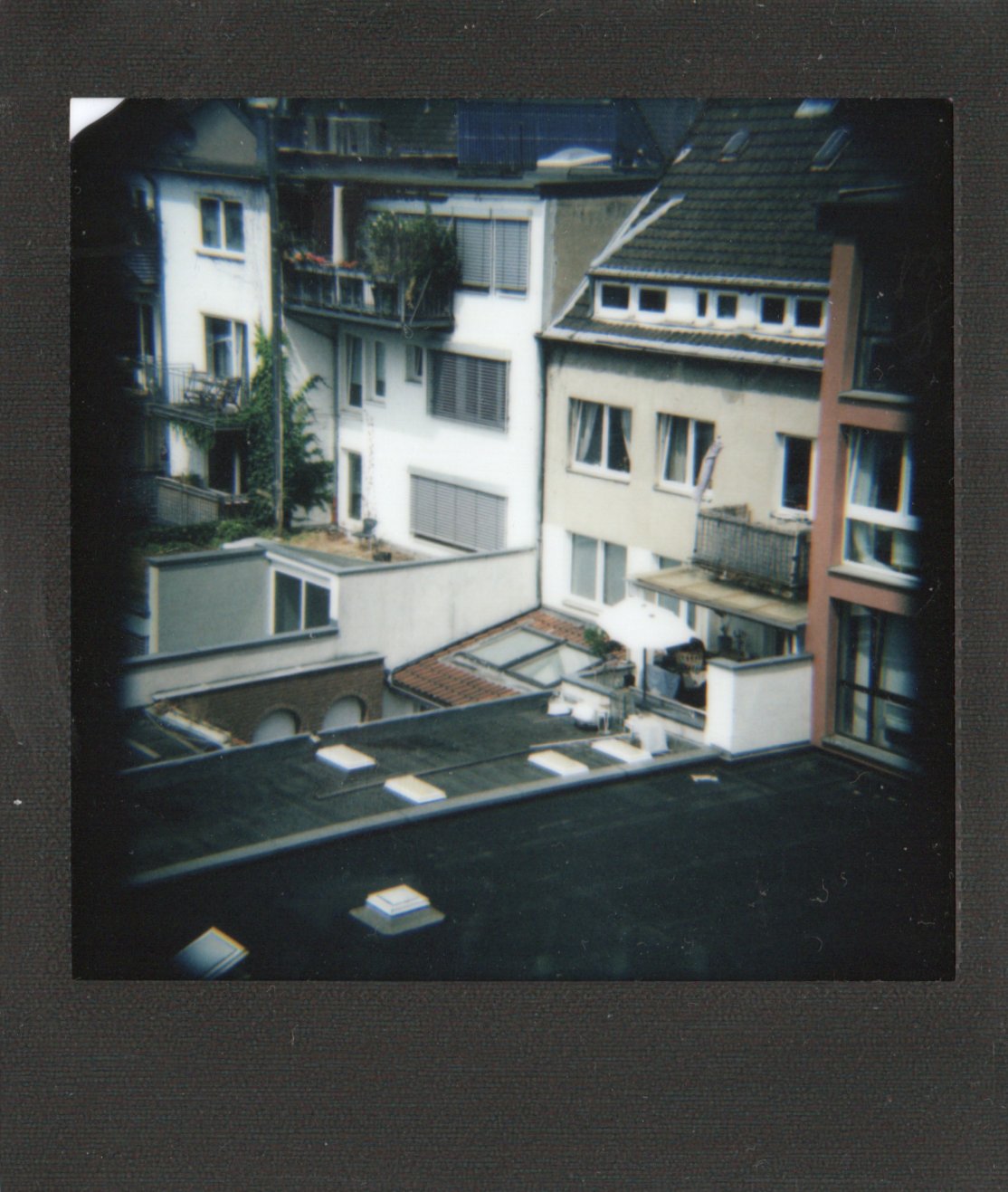 28-70mm zoom lens at 70mm. heavy vignetting.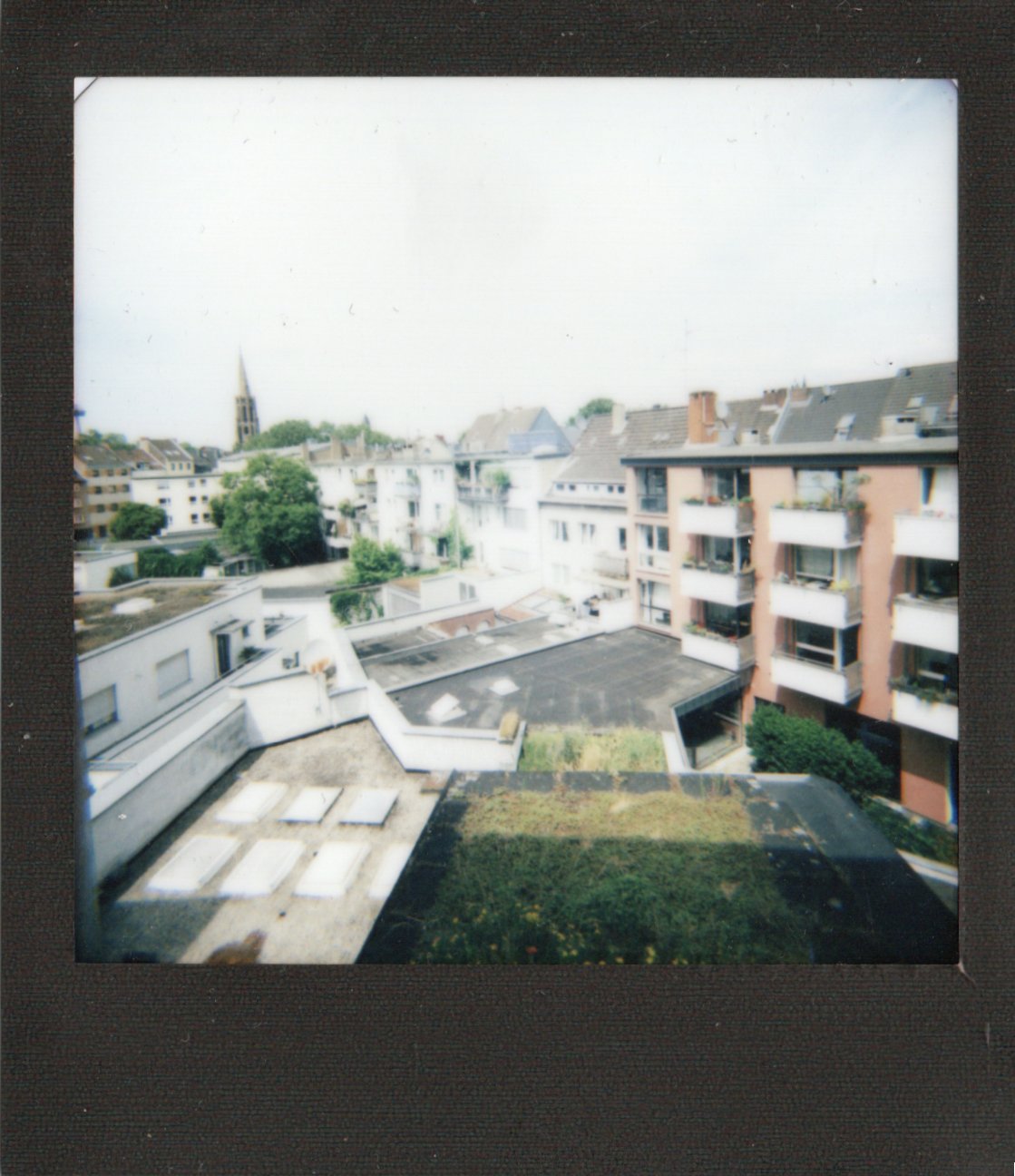 21mm Lens, extremely sunny day. 1/250 and F11. F 16 would have been better.



21mm Lens. Interior photo w/o flash. In my Cologne atelier.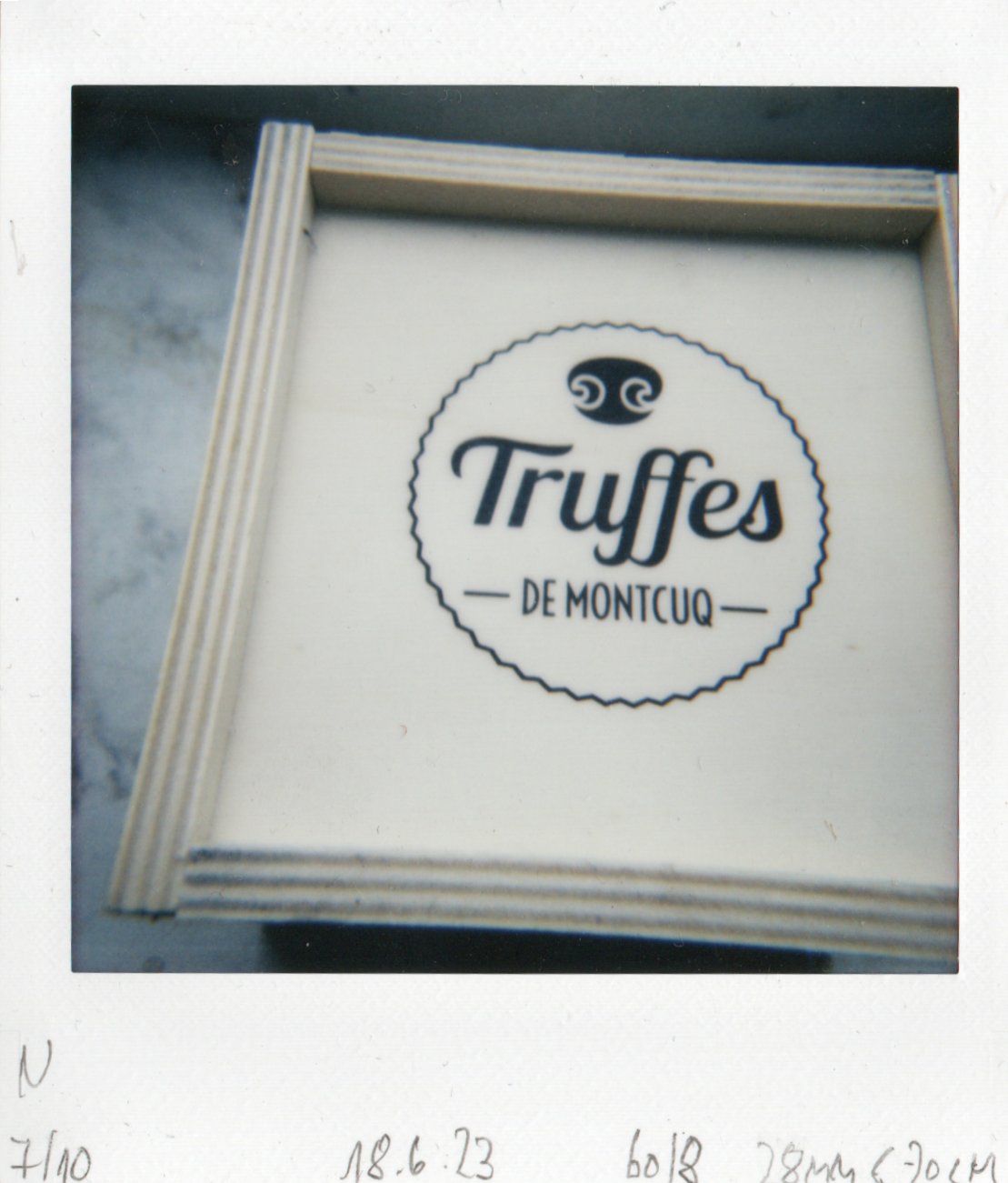 28mm Makro lens at 20cm. Real distance 10-25 cm, all in focus from 15cm.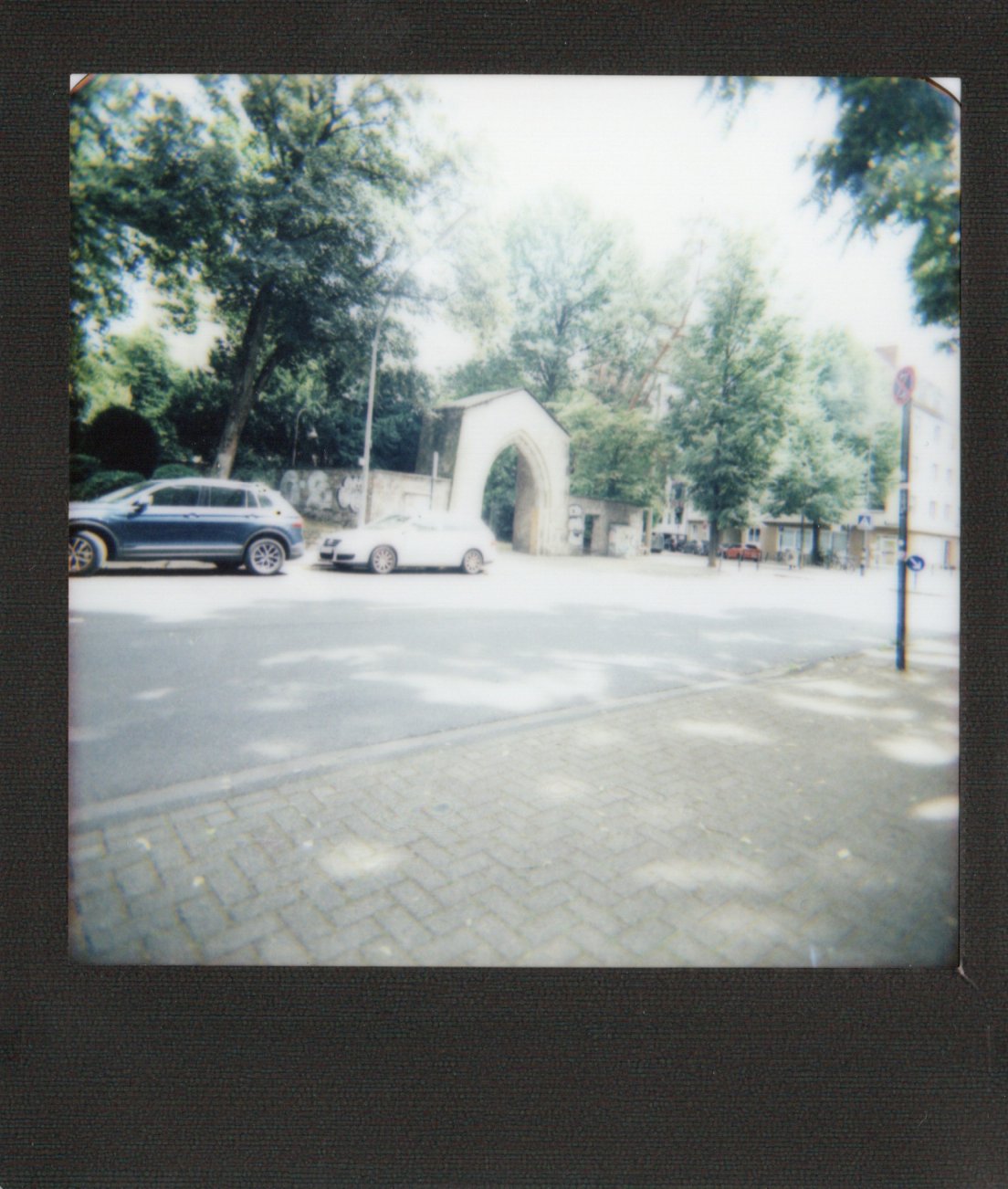 21mm lens, very sunny day, 1/250, F11. One stop more would be better. Cologne, entrance to St. Pantaleon.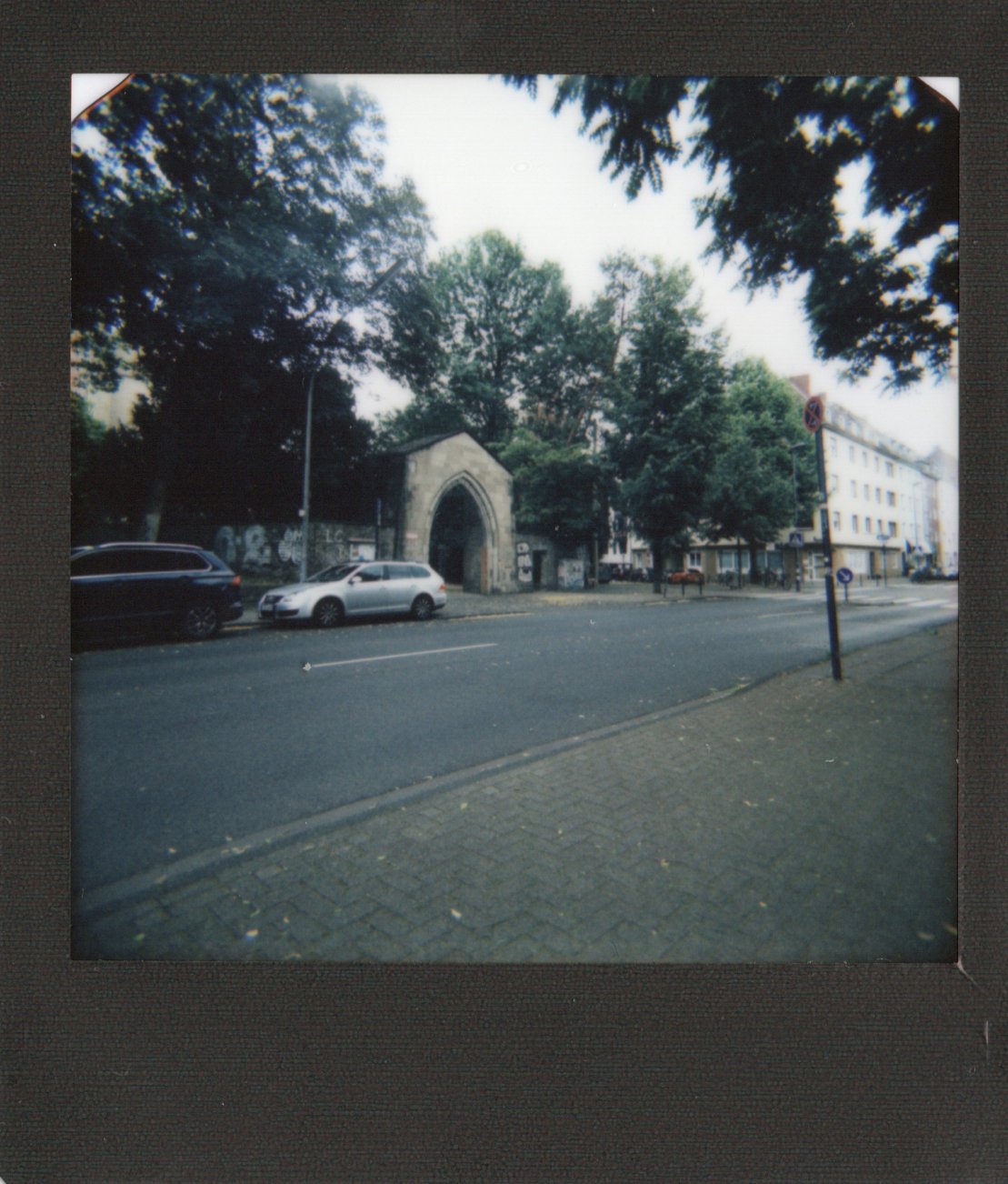 Same photo, one stop more, but a cloud passed at the moment of the photo.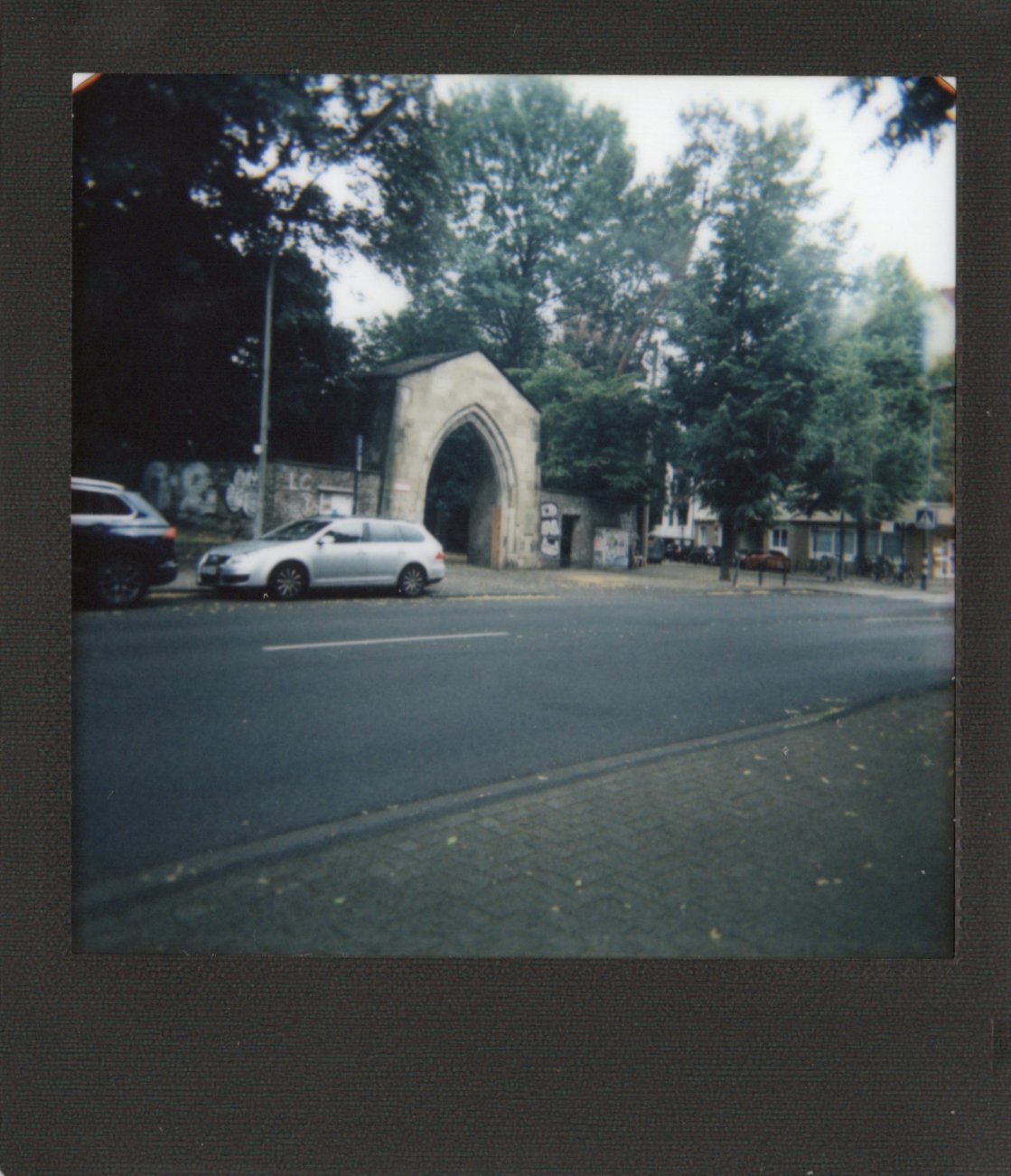 28mm. 1/250, F16.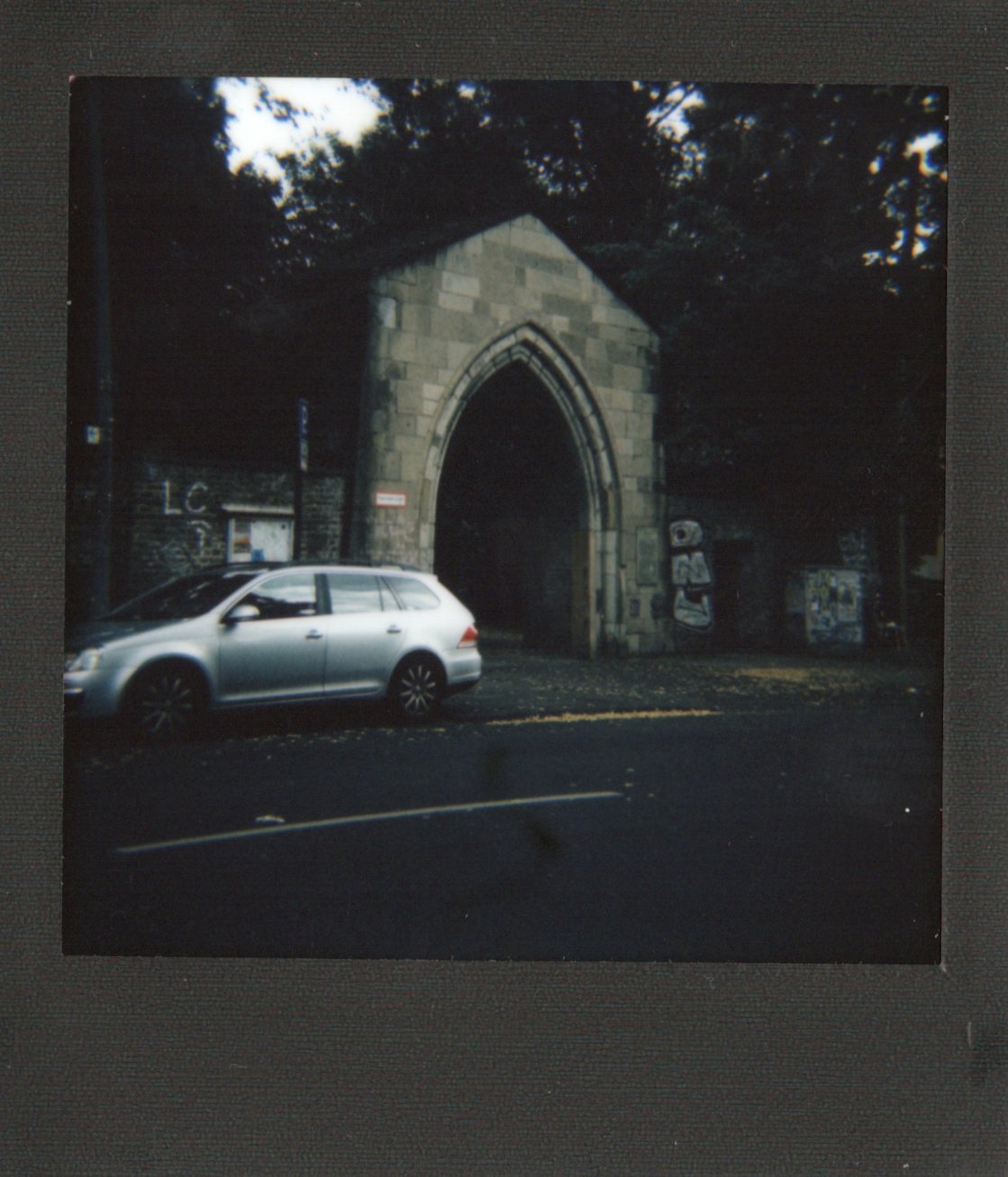 58mm. 1/250, F16,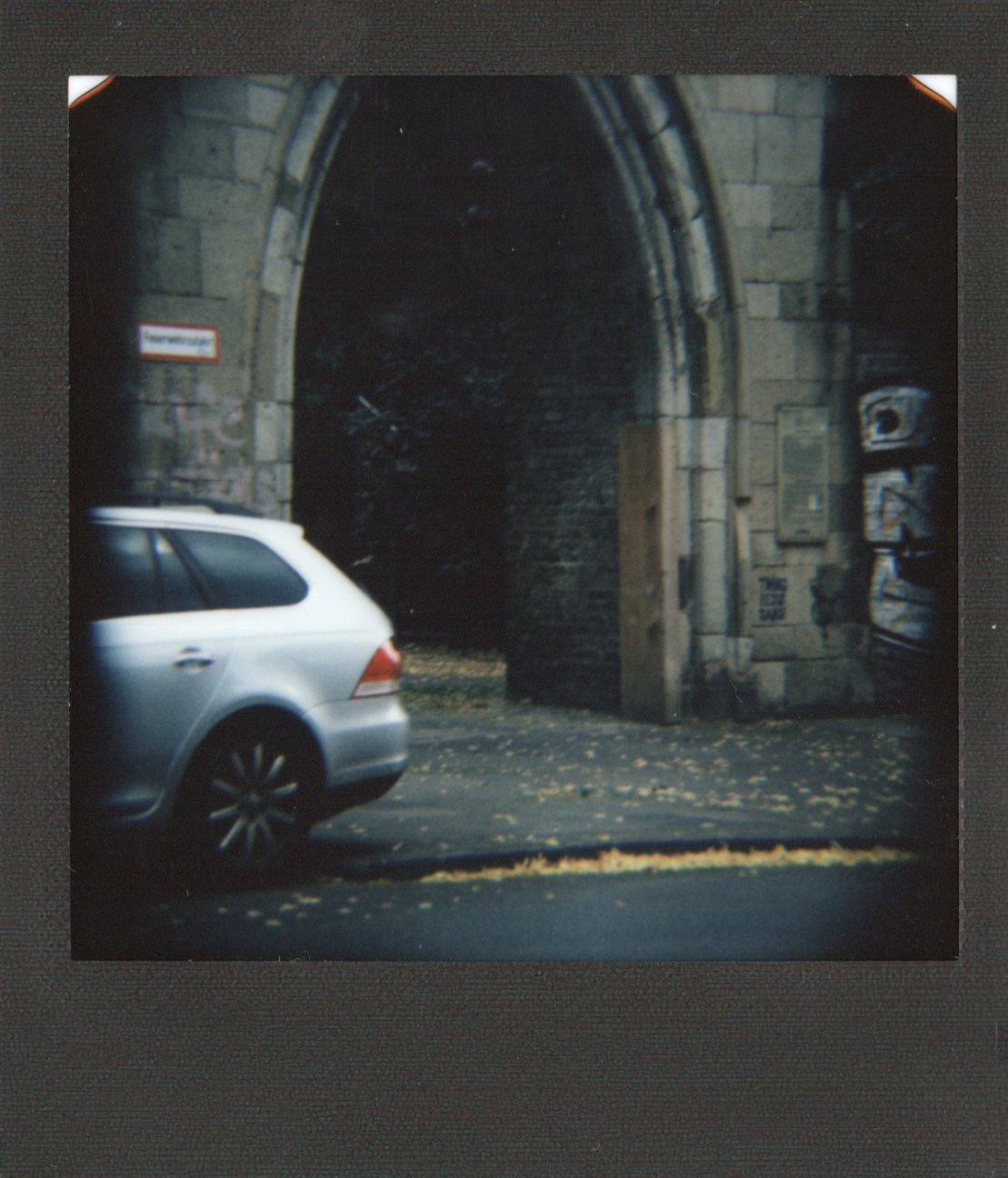 135mm, heavy vignetting. 1/250, F16. The longer lenses seem to be on the darler side.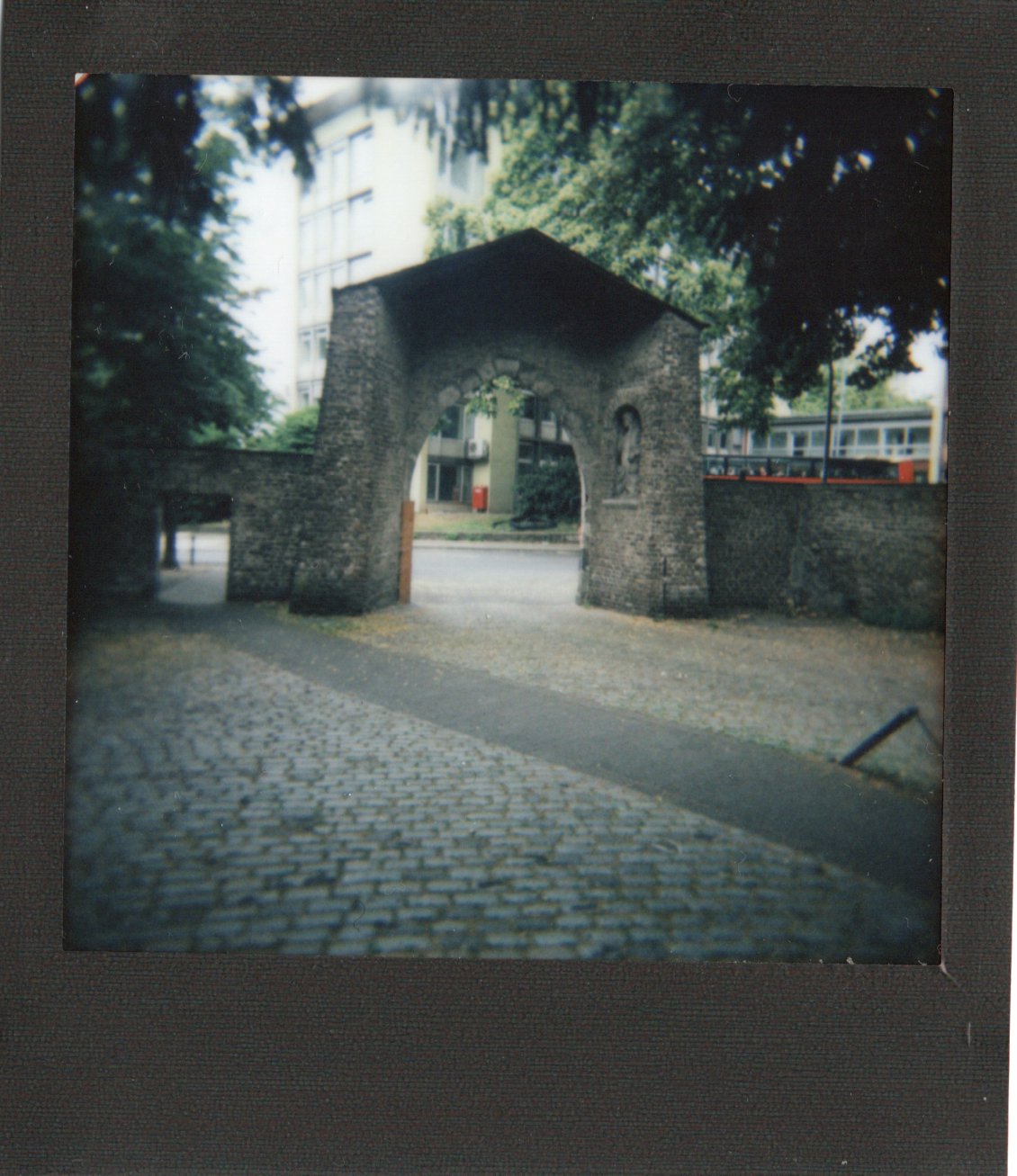 28mm, entrance to St. Pantaleon from the inside. 1/250, F11.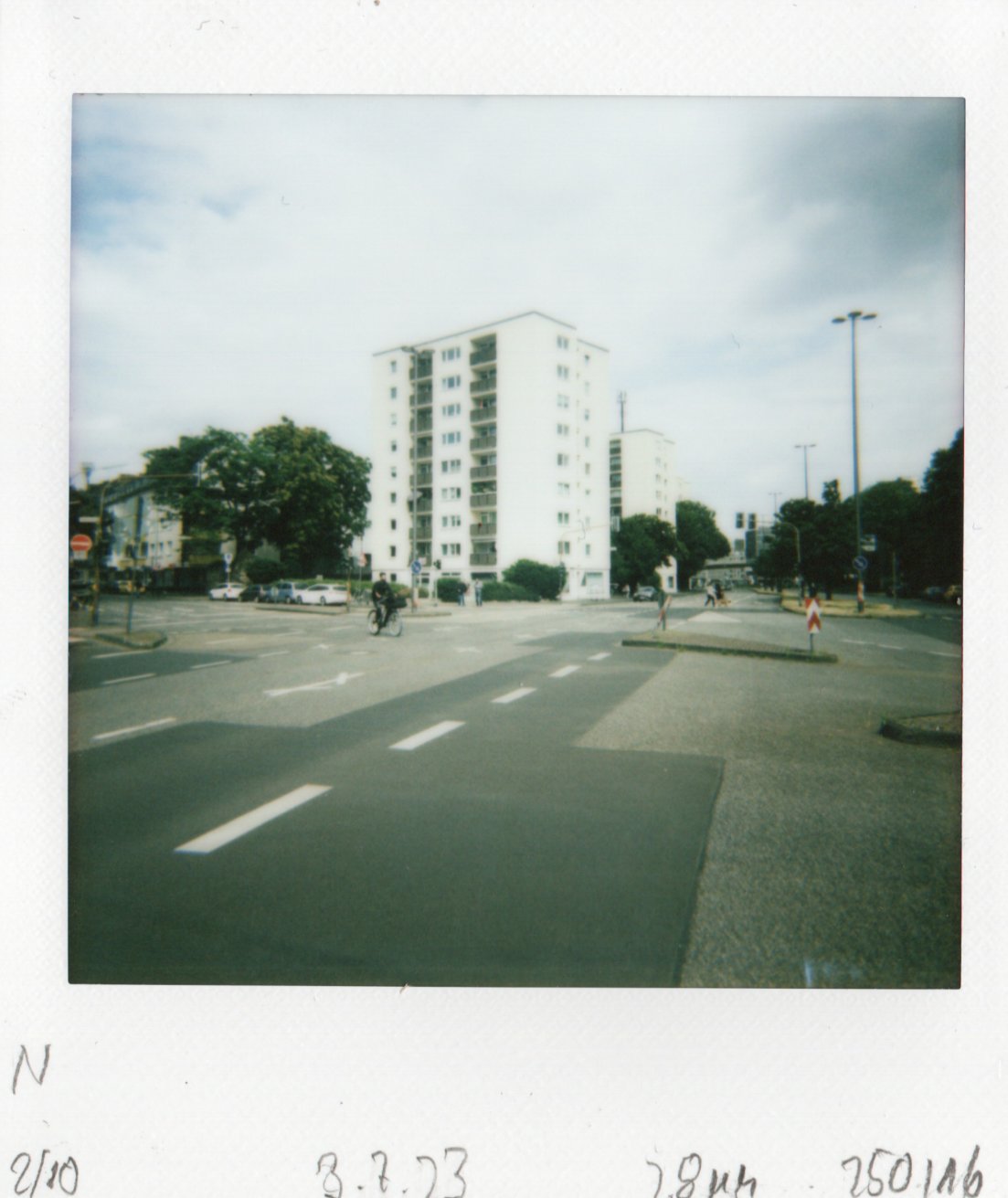 Cologne city, main threspassing road.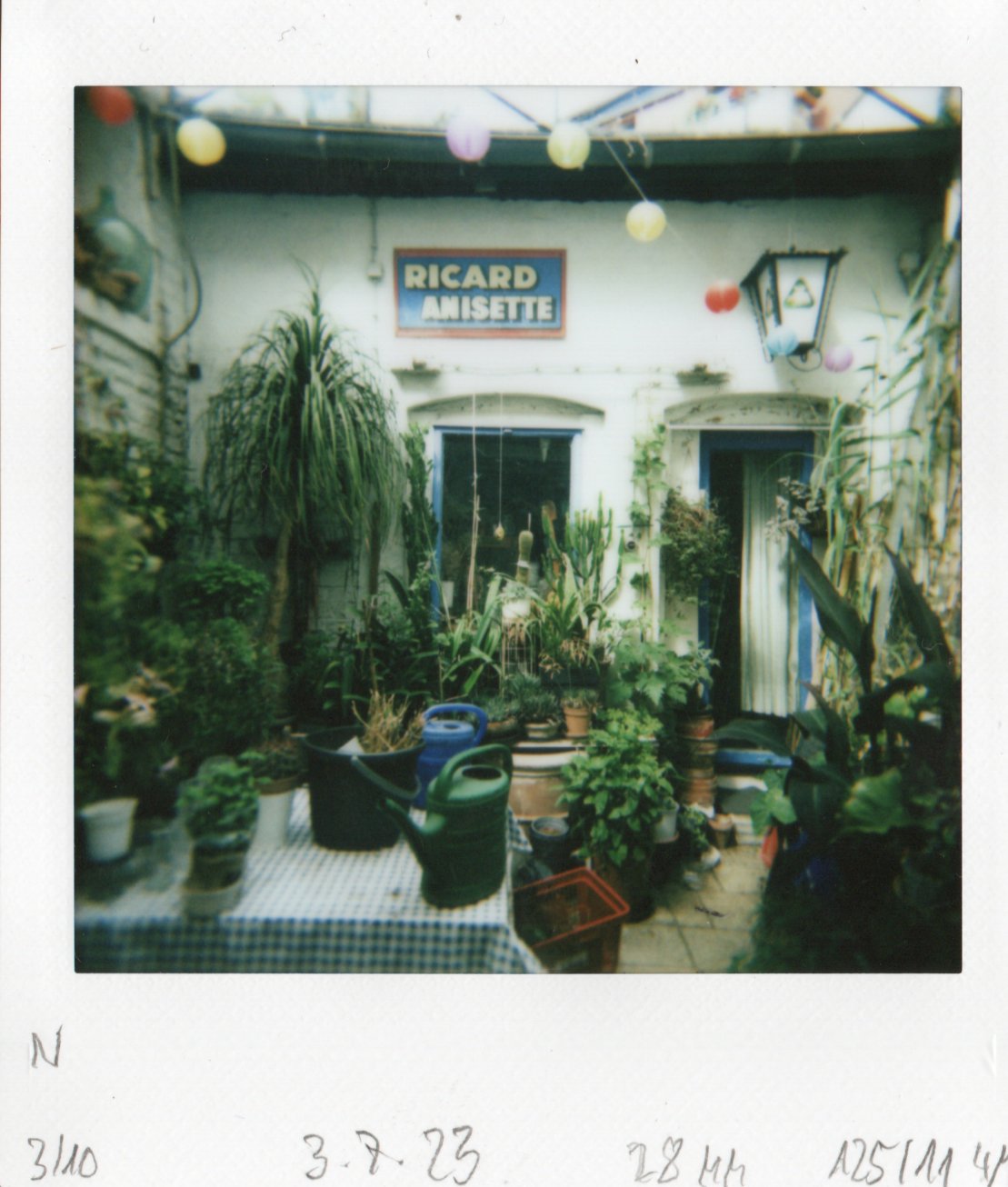 My Cologne veranda. If you look at the gutters near the top, you see some distortion, not visible on the other photos.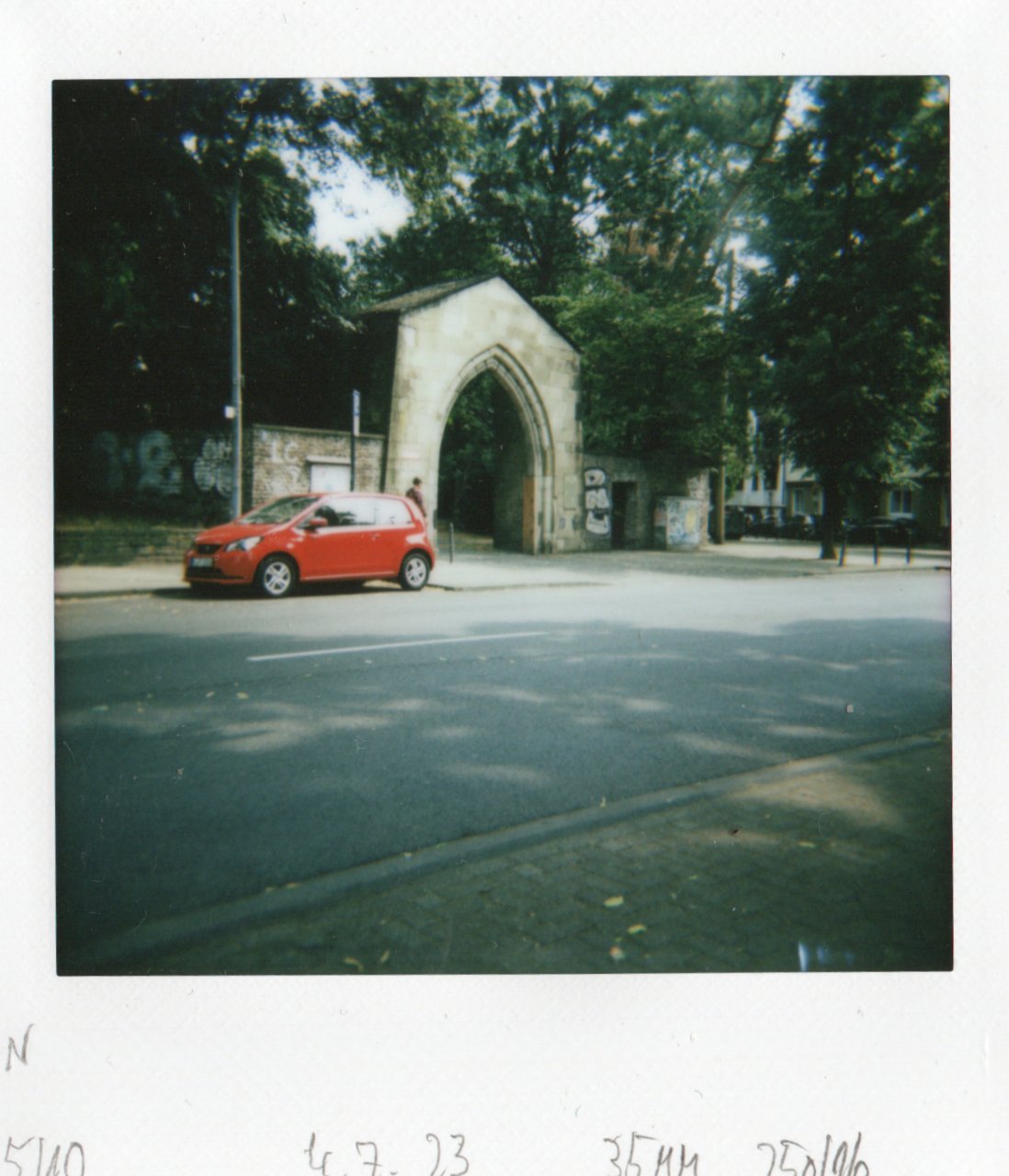 Another lens, a 35mm. A very nice result.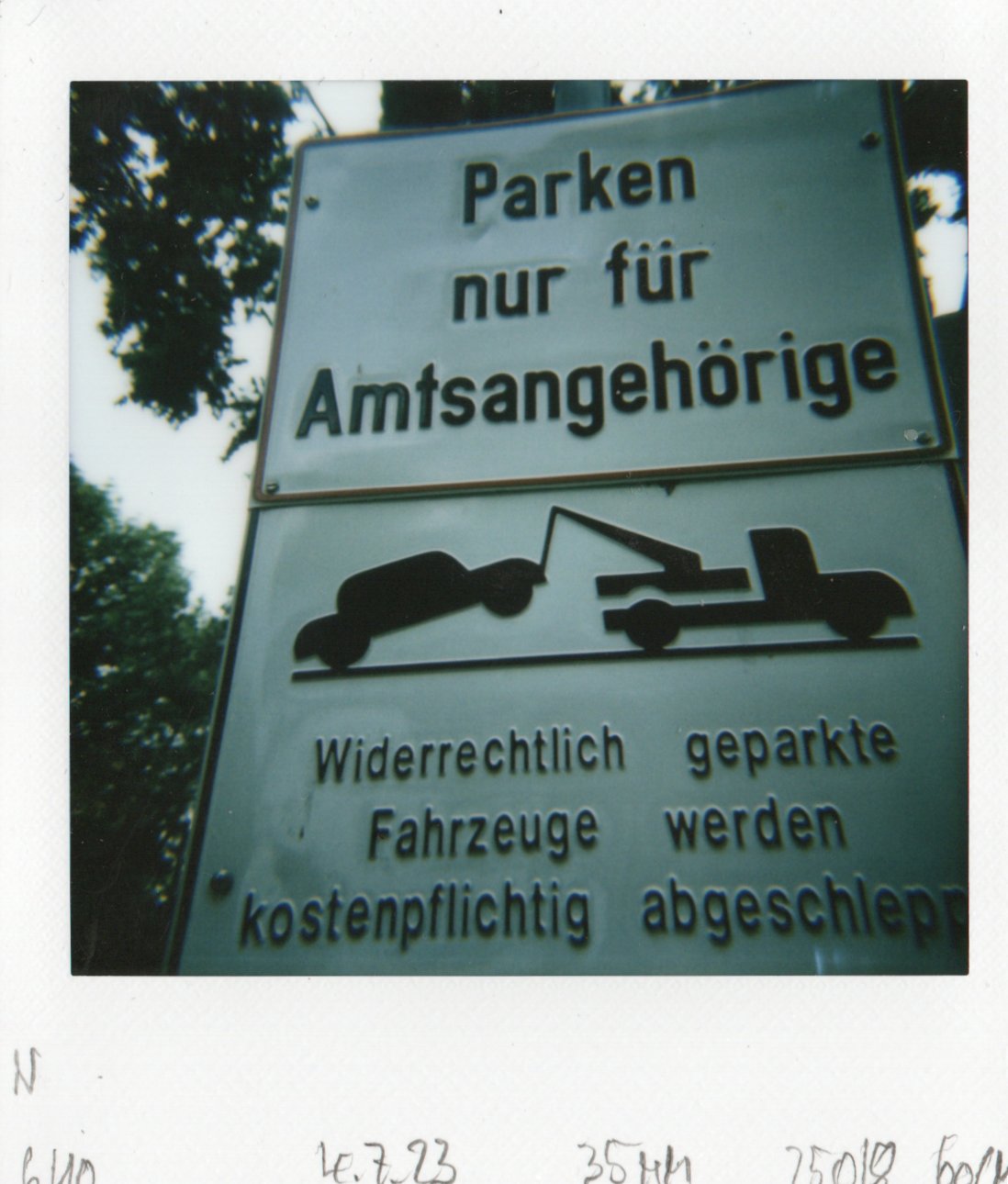 At 60cm distance.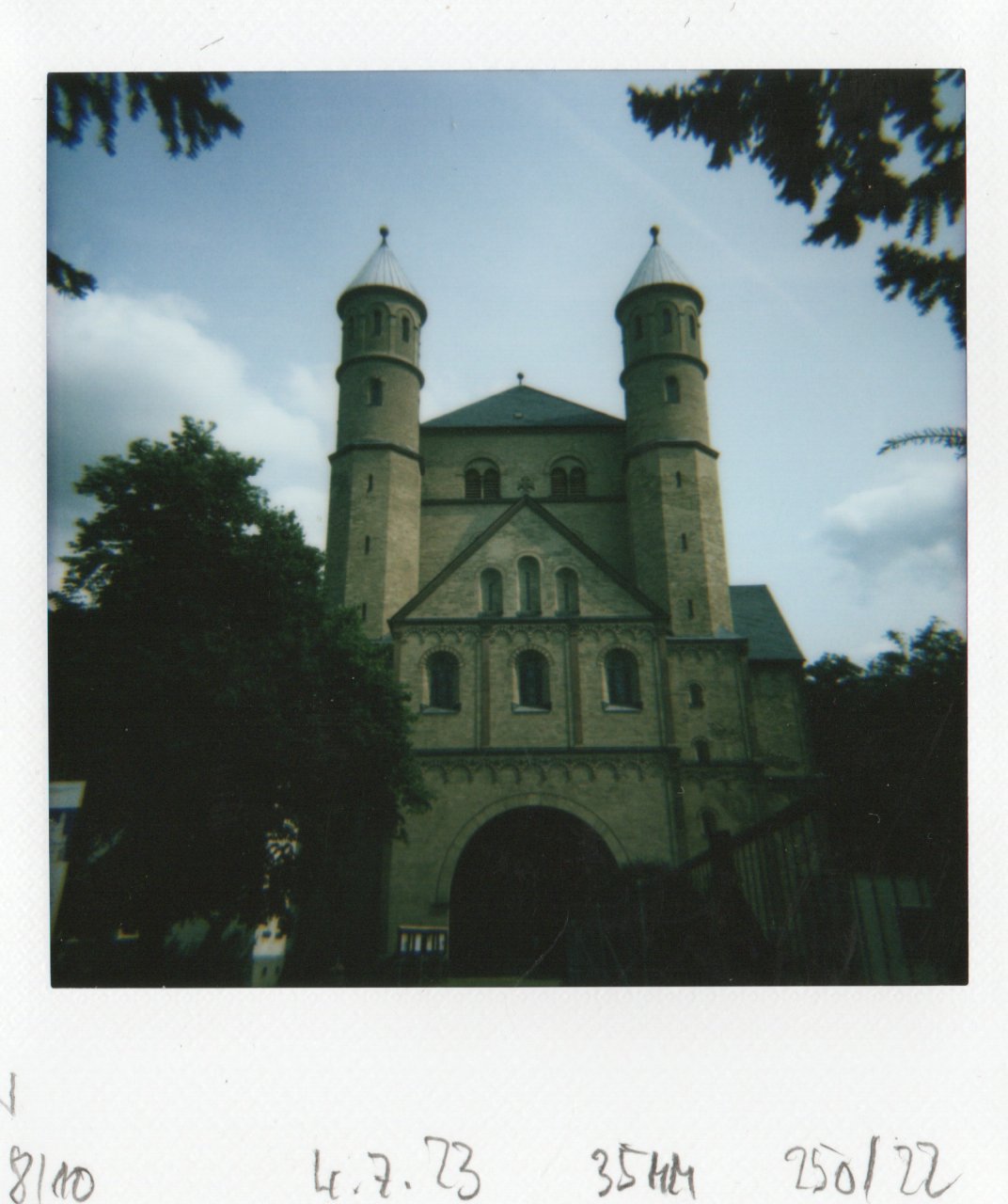 St. Pantaleon. In the finder the roofs of the towers hit the top of the finder and the towers were at the left and right margin. So quite a large part is not visible.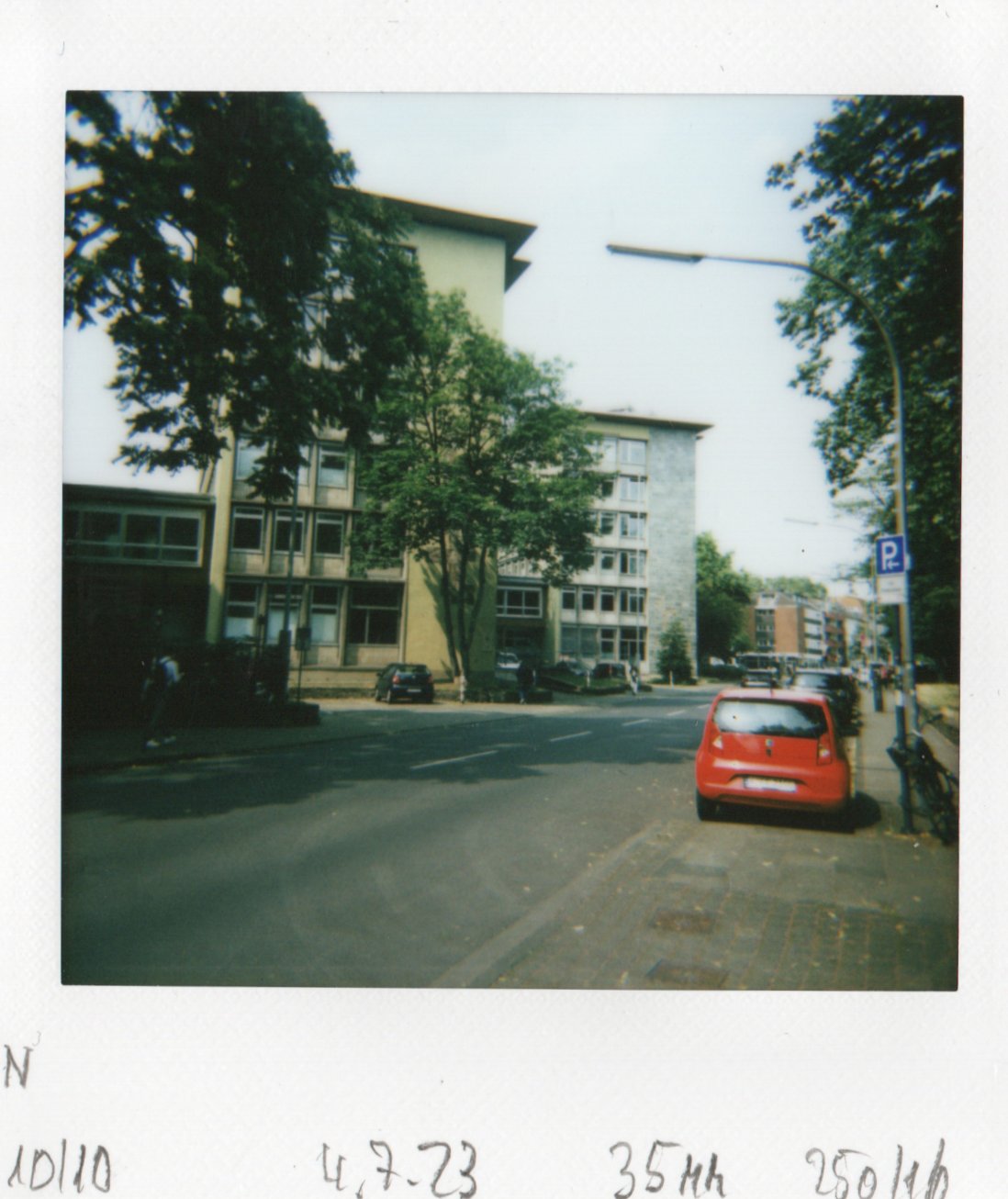 Cologne, new tax offices (1950s). A nice photo as well.



The

SL660

camera is easy to use. It

works like a traditional SLR analog camera. If you want classic pictures with the broad margin at the bottom, you have to turn the camera 90° so that the ejection side is up. This is easy to manage, it's even easier to peek at the light meter results from the side without turning the camera than to lower the camera and look at the top.

The battery loading is slow, it took several hours on mine to have a green light. The battery is strong, 3 cartridges did not alter the battery indication. If you load a new cartridge, put the camera on before doing so. On mine I changed the cartridge with the camera off and the counter remained on zero for the next cartridge. As the camera does not eject the dark slide automatically, have a look at the counter: after inserting a new cartridge, it should indicate "S". If not, take out the cartridge and re-insert. If "S" appears, eject the dark slide. You have to push the eject button for at least 2 seconds before it reacts, this prevents unwanted ejection.

The metering system is just OK campared to others. It's slow, let it take a second or two before reading. Fuji Instant film is uneven in ISO. It's 800 only in average conditions, it's 1600 on very bright days and only 400 in low light, so you have to compensate 1 stop up or down. The metering system does not take this into account (the metering system of the Mint Instakon RF70 does since an update). Beside this, it has a tendency to over-expose. So in general, close the aperture 1 stop more than indicated, on bright days, 2 stops. On the other hand, open the aperture at least one stop in dark situations, 2 stops for close-ups. The system under-exposes in backlight situations. That's normal for all systems, just take it into account.

To take a photo,

wind the shutter/lift the mirror,
choose shutter speed,
check the light meter,
set aperture according to the meter (+compensation),
frame your picture,
focus,
press the shutter button,
press the eject button for 2 seconds.

The NONS SL660 is a nice camera. The possibility to change the lenses is a nice feature, even in its limits. You can choose from quite wide angles up to a moderate portrait tele length, double the focal length of your lens and you have the medium format equivalent. Compared to other systems with interchangeable lenses, it's lightweight. Lenses are easy to find for cheap. Full manual control is its big advantage, the hyped "bokeh" is easily possible with this camera. The finder is bright, precise focussing is easy. Build quality is very good, it feels god in your hands.

It would be nice, if a future model could have a full frame finder or even TTL metering. All in all it's a nice camera which gives you plenty of possibilities to explore.

I tested longer lenses and as announced, there is heavy vignetting. If there is vignetting in the finder, that's no sure indication, the photo may be fine. Lenses wider than 28mm may work fine, as my 21mm Olympus lens. I also tested an Arsat 35mm shift lens with EF mount, it vignettes heavily.