The SuperWideStax Option is a custom made camera, based on the body of an Instax Wide 300 with a full manual lens. The maker, Option8, is well known for his custom made changements to a variety of Instant cameras. You can pick from a choice of lenses or send your own. It should normally be a 4x5 camera lens from the 90 to 100 mm range. For me he tried a wide angle and it worked out very well.

So why choose a full manual camera? Fuji makes wonderful instant film that could be professionally used, but only makes crappy cameras with very limited specifications. A manual camera offers many features that other Instax cameras do not have, as: extended manual modes, B and/or T mode with long exposure times, multiple exposure and a flash connexion.

The technical specifications depend on your lens. This one is a well known 4x5 very wide lens, 65mm. It's marked "Schneider Super Angulon 5.6/65 Multicoated". It has a Copal 0 shutter.

Film: Fujifilm Instax Wide Film
Exposure Area: 62mm x 99mm
Aperture: f/5.6, f/8, f/11, f/16, f/22, f/32, f/45
Lens: 8 elements in 4 groups, f=65mm (24mm equivalent)
Focal range: 0.50m - ∞ , manual focus
Shutter speed: 1/500s - 1 second, B and Tmode
Viewfinder: Optical viewfinder
Shutter: 1/500, 1/250, 1/125, 1/60, 1/30, 1/15, 1/8, 1/4, 1/2, 1, B, T
Flash: PC socket
Motorized ejection. Takes 4 AA batteries.
Size: 190 x 120 x 145mm
Weight: 1060 g with batteries and full film

Some pictures of the camera:



Front with cap.



Front without cap. Viewer and eject button (ex shutter button). Around the lens: speed and aperture setting, shutter cocking lever, PC flash socket, cable release socket.



Back side. Viewfinder eyepiece, back opening button.



Top. Ejection slot. Around he lens tube: distance scale in meters.



Bottom. Tripod mount.



Right side. Strap lug near the finder. Near the flash socket: shutter open lever. Do not touch this, it is for large format cameras to focus while no film is present. It just opens the shutter and burns your film.



Left side with grip strap lug and battery compartment.



Back open.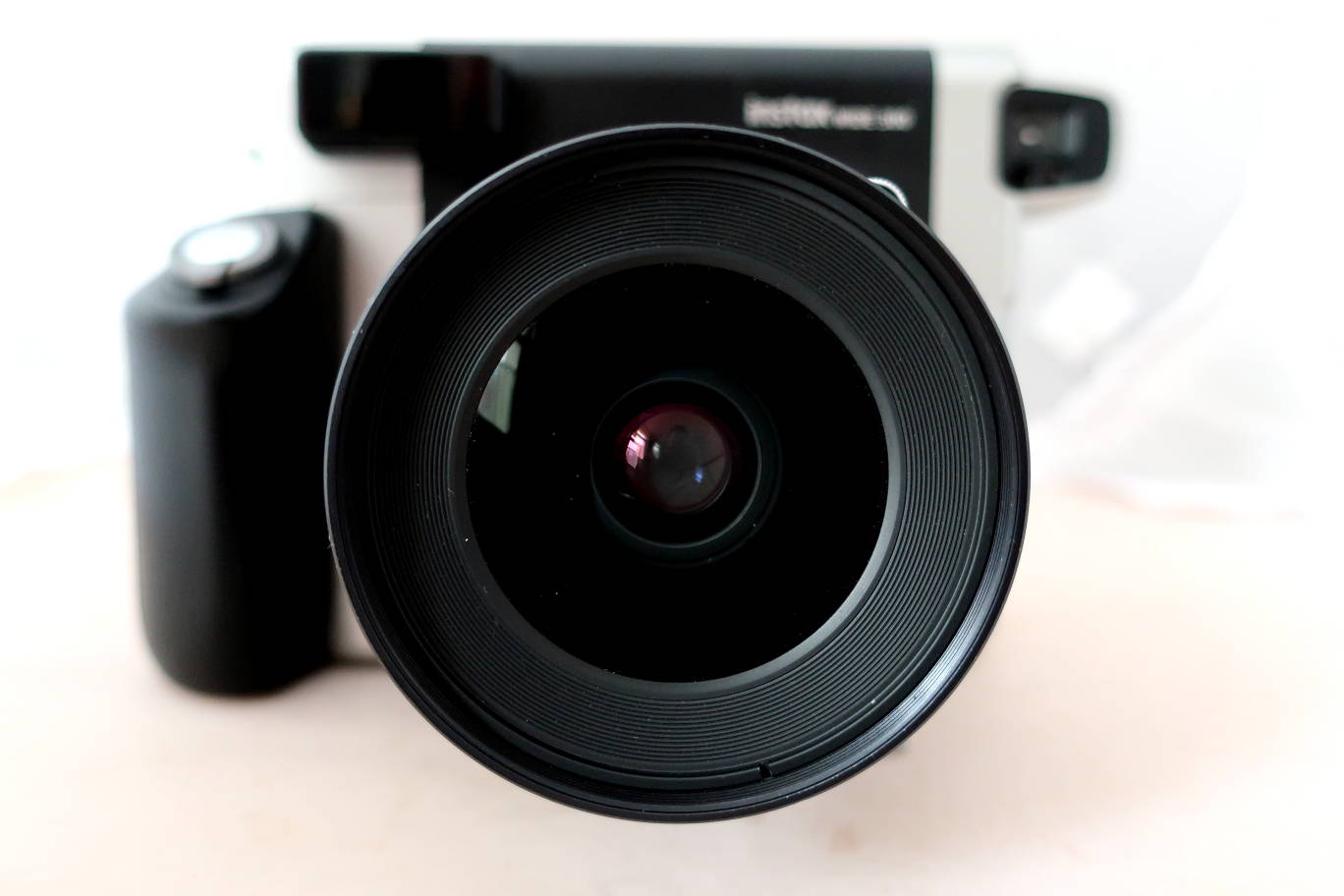 The lens.

Some first photos, quickly taken on a dull and cold day, so no small apertures. The next day there was sunshine, si took some more. All photos taken with new Instax film and measured with a Gossen Digisix. Speed and aperture are noted on the margin of each photo.



Calais, quartier Mollien. Dark gray sky, no sun.



Calais, quartier Mollien. Dark gray sky, no sun.



Calais, quartier Mollien. Dark gray sky, no sun.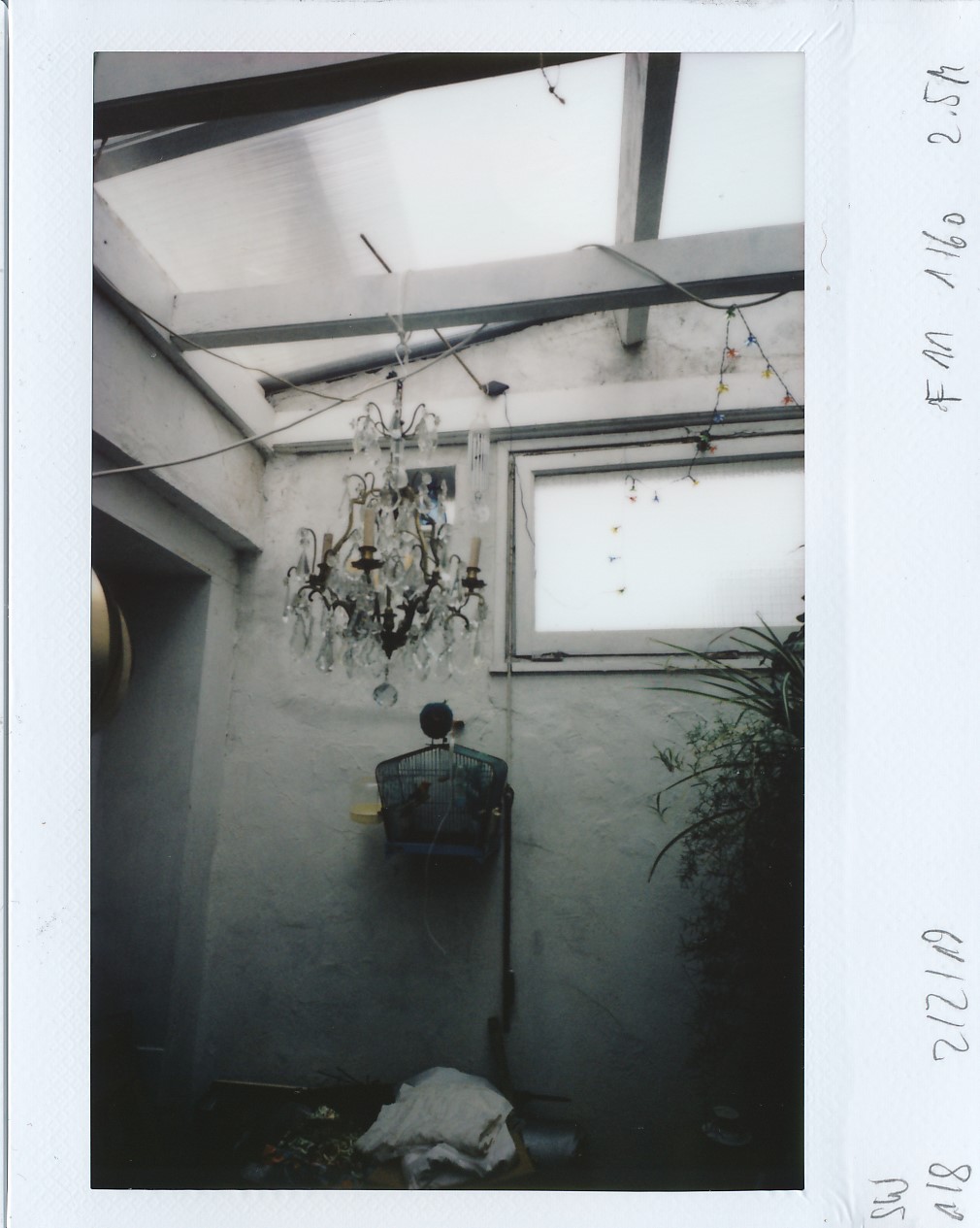 Veranda, dark day, focus on the first candle.



Tulips, measured on the flowers. Natural light, slow speed, hand held.



Same photo, tulips, measured on the vase. Natural light, slow speed, hand held.

Some sushine photos:



Calais, ferry port, bright sunshine.



Calais, theater, bright sunshine, full backlight, but taken in the shade.



Calais, shopping center and main avenue.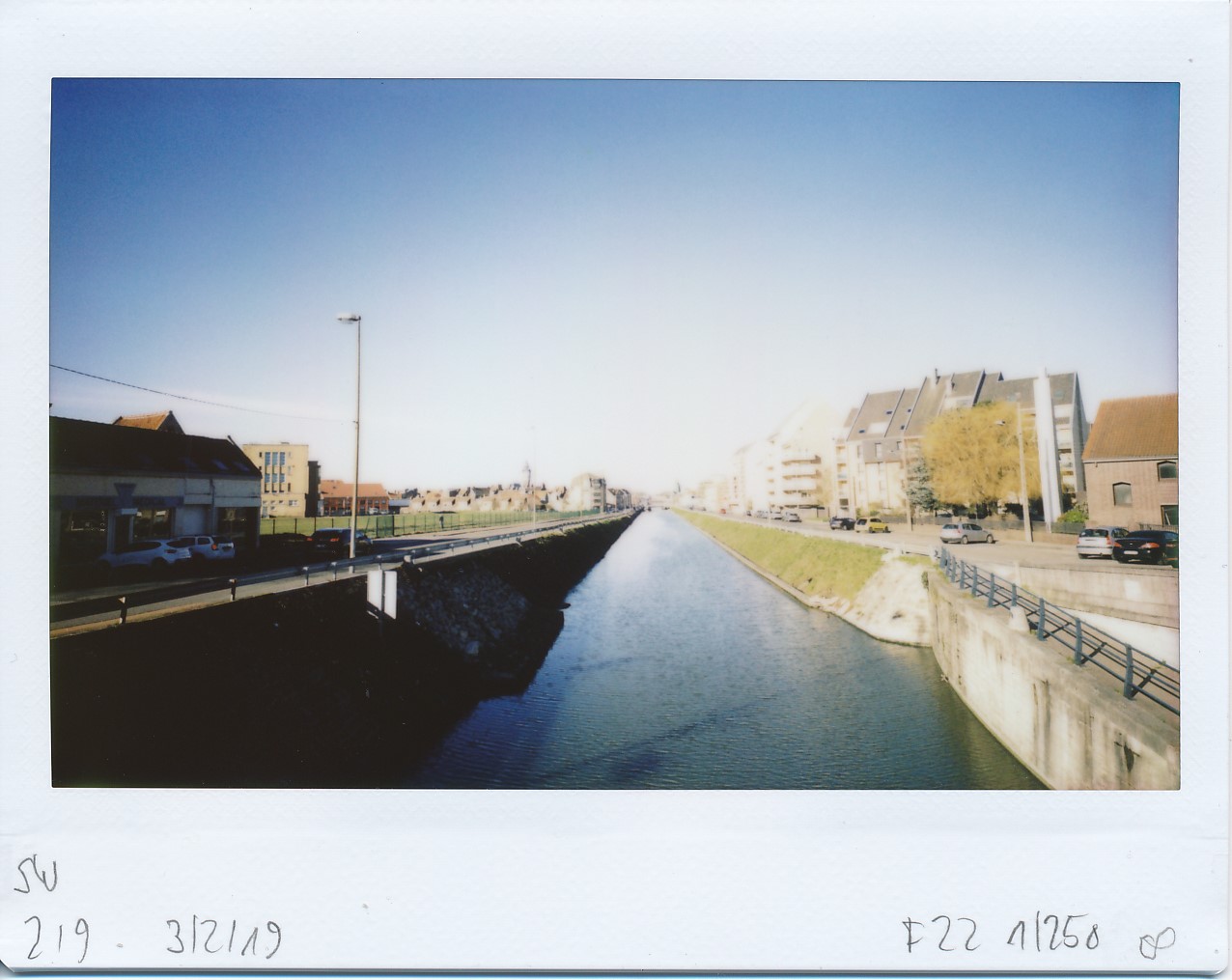 Calais, channel to the port.

In bright sunshine, a center filter would help to avoid either dark edges or too bright centers, as it's the case with all very wide angle lenses.



Calais, quatier Mollien. A quick shot with a center filter just before sunset. There will be more soon.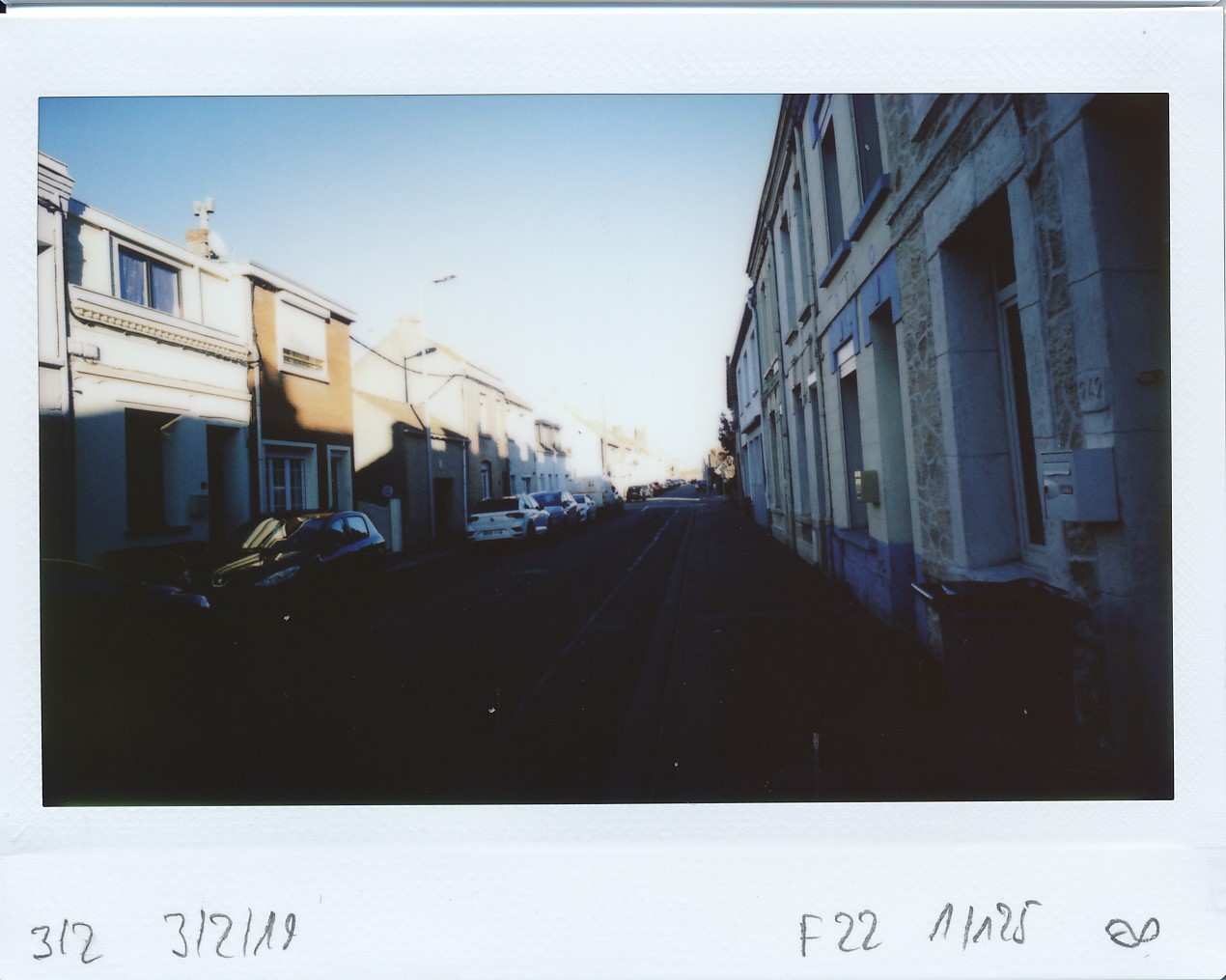 Same photo without center filter.

Instax film has a strange sensivity behavior: in strong sunlight it's 1600 ISO, in low light 400 ISO and only in between it's 800 ISO. So you have to add one stop in bright light or subtract one in low light. If you take this into account when metering, you get perfect results. If you use a center filter, you have to take this into account as well. My center filter was indicated as 2 stops, with this lens it's 1 stop. Some more photos with the center filter: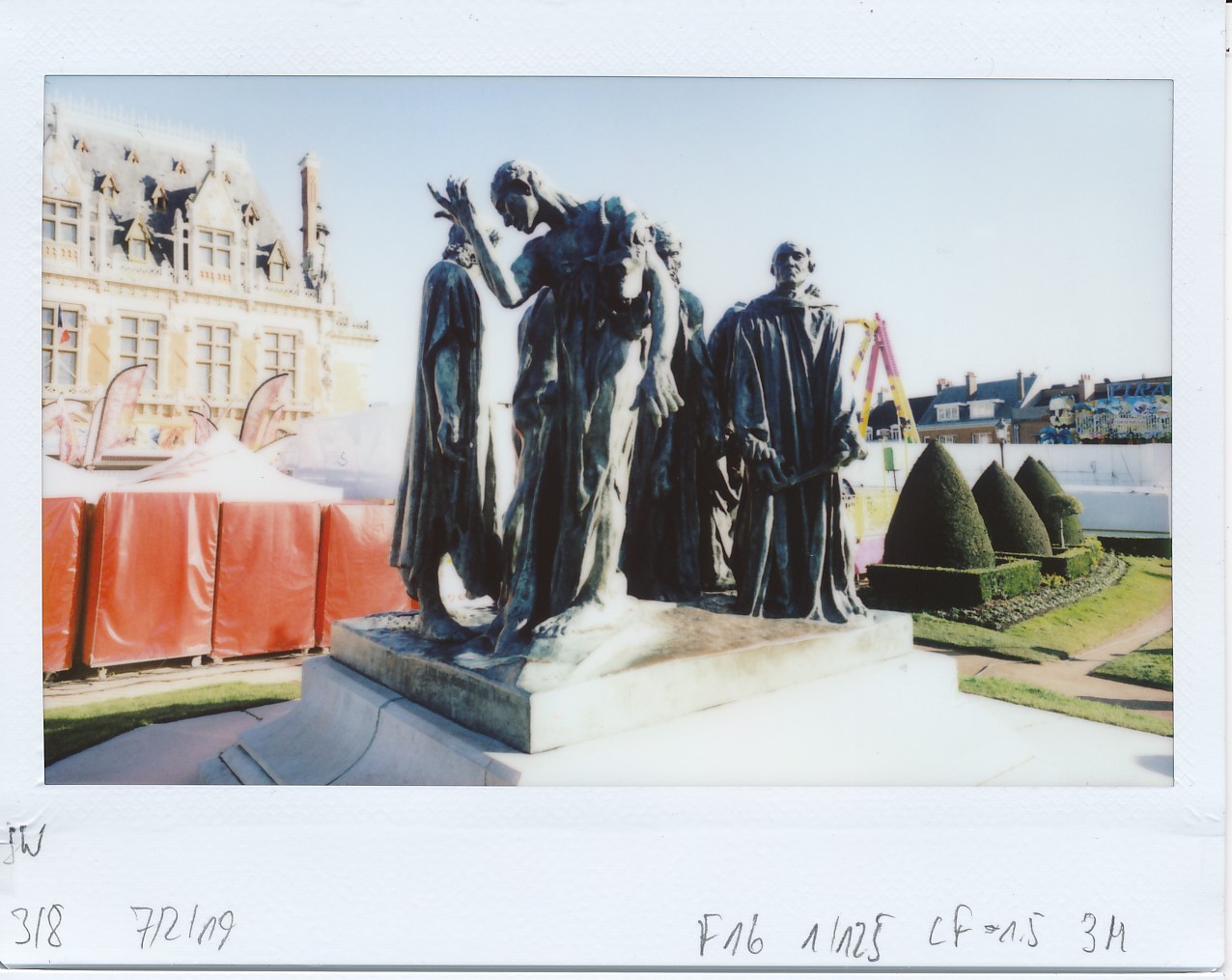 Les Bougeois de Calais, famous Rodin sculpture in front of our fancy Town Hall. I forgot to add 1 stop for bright sunlight.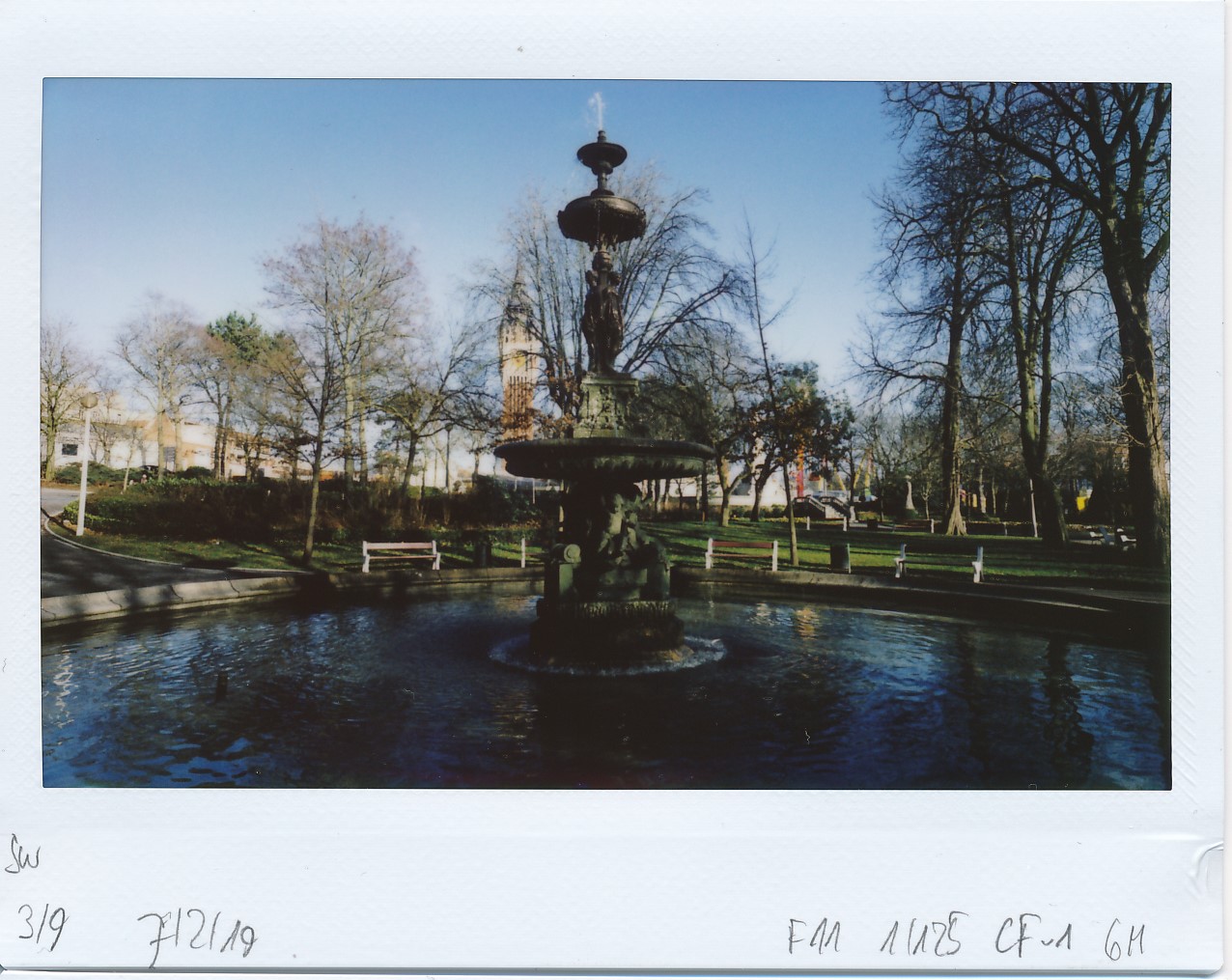 Parc Saint Pierre, Calais, in the shade on a bright day. Camera and lens do a beautiful job here.



Calais, ferry port, bright sunshine, with center filter and measured as 1600 ISO. Perfect result for my taste. If you compare this to the other ferry port photo further above, it makes a BIG difference.

Handling is not as easy as an ordinary Instax camera, it's a full mechanical camera, don't complain, you wanted one. So you have to measure the light, set speed, aperture and focus, cock the shutter and release it. Ejection is via the old shutter button on the body. It's not one push and a cycle, you have to hold it down until ejection is complete. But you have to release it in time, if not, a second photo is moved up. Fortunately the sound of the motor changes when ejection is complete, so it's easy. If you owned ordinary Instax wide cameras for years, as I do, it's a bit difficult not to touch the old shutter button in order to take a photo, but you get used to it. A handle with a cable release helps a lot, it also could carry a rangefinder if you need one. There is no counter for the photos that are left. So either you have a good memory or you have to take notes. There is no battery charge indicator and no switch to turn the camera off. So be careful not to touch the ejection button, which sits on the camera grip, when you put the camera into a bag or take it out of it. But in principle handling is just as easy as any other mechanical camera with the big difference that you can have immediate results.

Option8 has done a beautiful work here. The lens is huge, so the camera is bigger and heavier than his ordinary conversions. The lens is 400gr alone. I knew what I wanted and Option8 did perfectly what I hoped to get. These are real wide angle photos, the lens is superb. So I am very happy with it.