This is the

POLAROID OneStep +

, an advanced camera for I-type film. The first modern camera for I-type film was the Impossible I-1 camera with a somewhat arkward design, but with advanced features, accessible via Bluetooth from a smartphone. When the Impossible project was sold to the new Polaroid company, rebaptisized Polaroid Originals, the I-1 was replaced by a OneStep 2 model. Its design was inspired by the old OneStep series, which were simple non-folding cameras for SX-70 film without flash. Obviously they kept the base from the I-1 and its built-in rechargeable battery for the use of I-type film. They put a flash into the old-style housing, but kept the design very close to the old Polaroid cameras. The OneStep 2 lost the advanced features.

These are back with the OneStep +. The features are: remote control, more vesatile self timer, double exposure, light painting mode, complete manual exposure control, a noise trigger for the shutter and a scan and share mode to scan, crop and edit your pictures.

Specifications:

Lens: Fixed focus lens, optical grade polycarbonate, coated (there is little information about it)
Standard lens focal length: 103 mm, 0,6m-inf
Portrait lens focal length: 89 mm, 0,3-0,9m
Aperture: f/14 to 64
Shutter Speed: up to 1/250 Sec, Bulb Mode
Field of view: 41° vertical, 40° horizontal

Battery: lithium-ion battery (1100mAh), rechargeable via USB
Outer shells: Polycarbonate + ABS plastics
External viewfinder barrel, no parallax indication
Flash System: Vacuum discharge tube strobe
Bluetooth LE connectivity
Neck Strap and USB charging cable included
Tripod mount on base of camera

Dimensions: 150mm (L) ×111mm (W) ×97mm (H)
Weight: 493 grams (without film pack)

Some pictures:



The box...



...from either side.



Box unpacked.



Camera.



Back view. Viewer, on/off switch, flash control lamp and USB socket, flash off button below, has to be held while pushing the shutter button. Strap lugs on the base.



Front. Flash, +button for bluetooth connection and self timer, infrared LED, lens, viewer, darken/lighten switch, meter cell, orange shutter botton, film door latch on the base.



Left side.



Seen from above. Indication LEDs for shots left, lens range switch.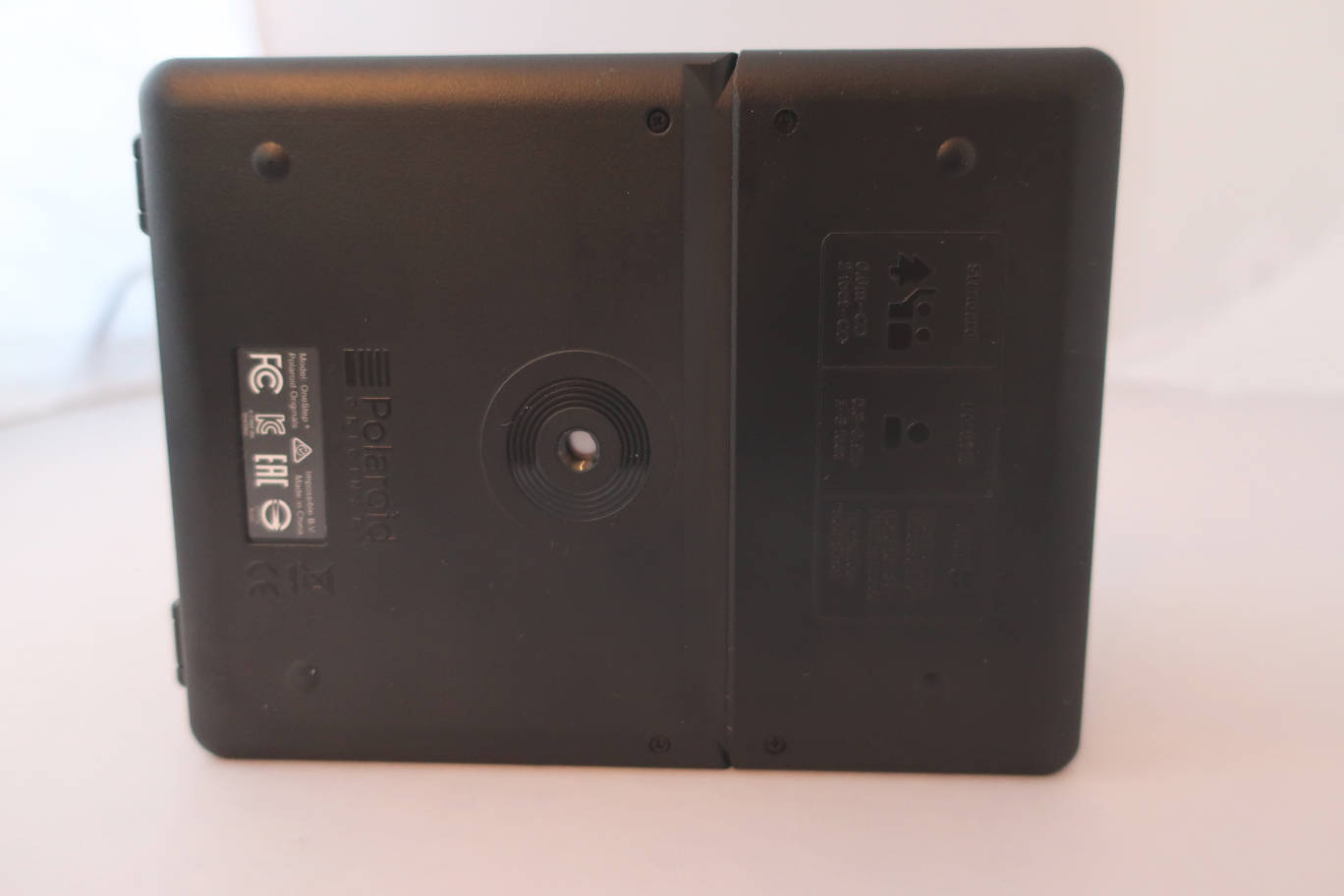 Tripod socket.



Camera paired to a smartphone, manual mode.

The camera is easy to use, point and shoot, it's automatic. Within flash range and in broad daylight the pictures are fine. In subdued light as in bad or cloudy weather and near dawn or dusk pictures are largely underexposed in my taste. As darken/lighten is only 1/2 EV, it doesn't really help, nor does suppressing the flash. The lens range switch moves much too easily on my camera, if you put it into a bag or pouch it moves and you may spoil a picture, at €2 a picture and only 8 pictures per cassette, this is not funny.

The app works fine, no problem. I will shoot more pictures for a final conclusion later.