| | |
| --- | --- |
| instantphoto.eu Polaroid SnapTouch | |
The Polaroid SnapTouch is a digital camera, associated to a Zink paper printer in
2 x 3
inch mini format. The Polaroid companies have launched different printer/camer combinations during the last several years. It began with the small portable PoGo printer, launched in 2008, which was very successful. The waterproof 2x3 stickers in vivid colours created a hype inspite of the small format, credit card size, 5x7.5 cm. Maybe the affordable paper price helped a lot. In 2012 they launched the Z2300 camera/printer combination, based on the same technology, the camera being only a little bit bigger than the printer alone. At a price of around 200
€ it was quite expensive.

In 2015 Polaroid lanunched a new basic version, completely re-designed, the Polaroid Snap. This camera has no screen, you can just shoot and print. With the launch of the Polaroid SnapTouch in 2017 you have a full featured camera again, with touchscreen, the possibility of processing the pictures before printing and even a smart phone app.

Some pictures: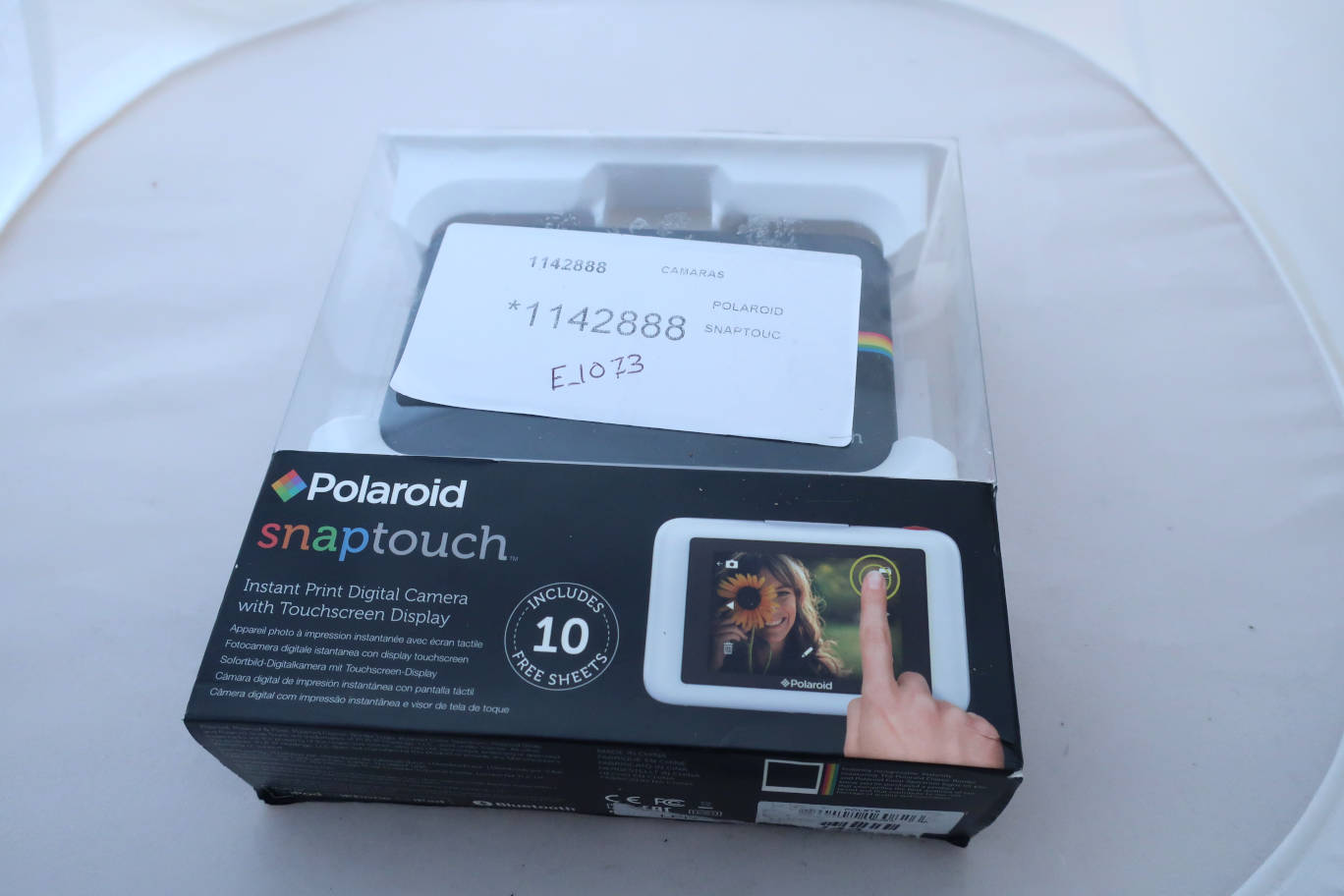 The box...



... from the other side.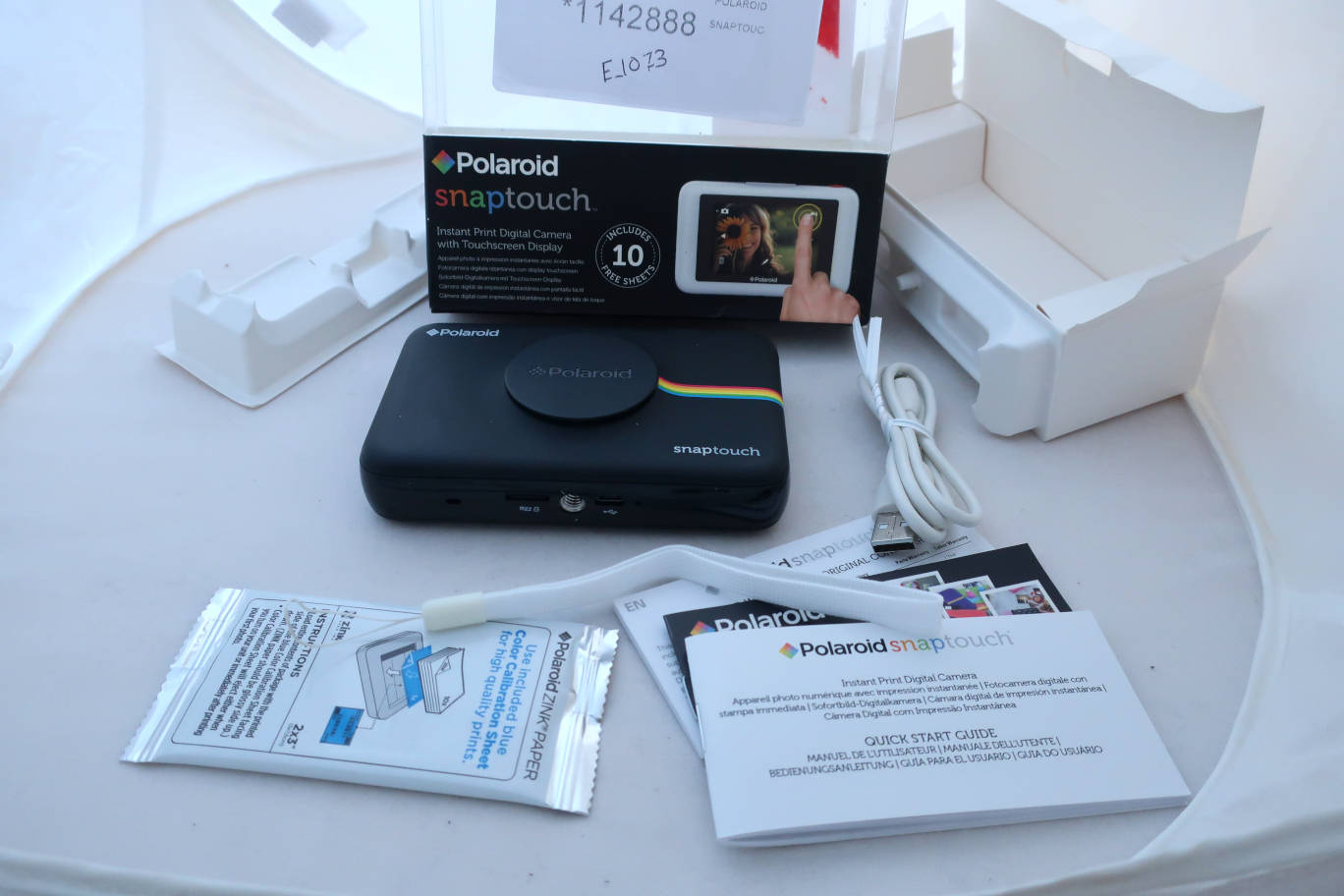 What's in the box. Camera, USB cable, strap, 10 sheets and a very small instruction book.



Backside. The paper compartment sits under the lid with its touchscreen surface.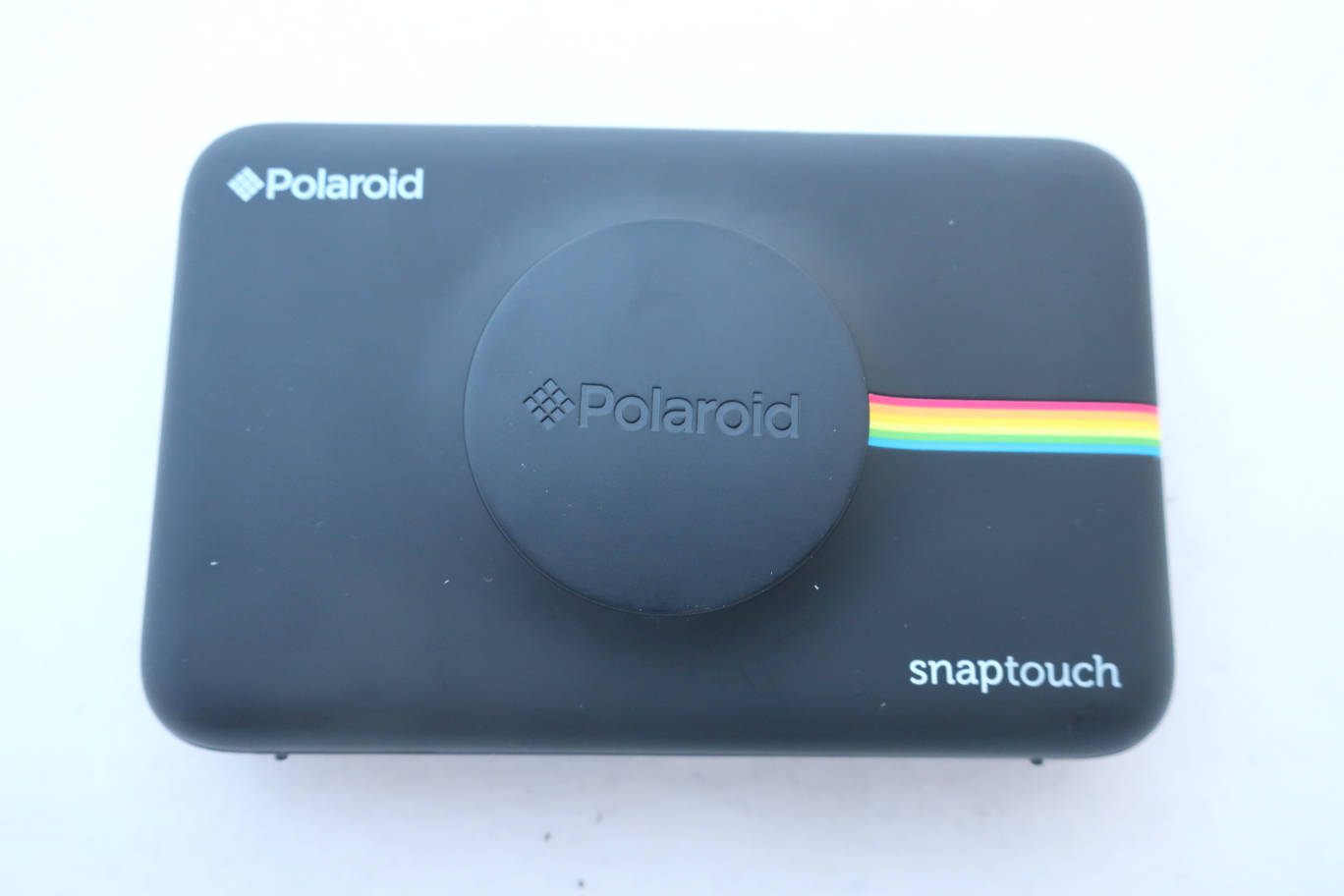 The front.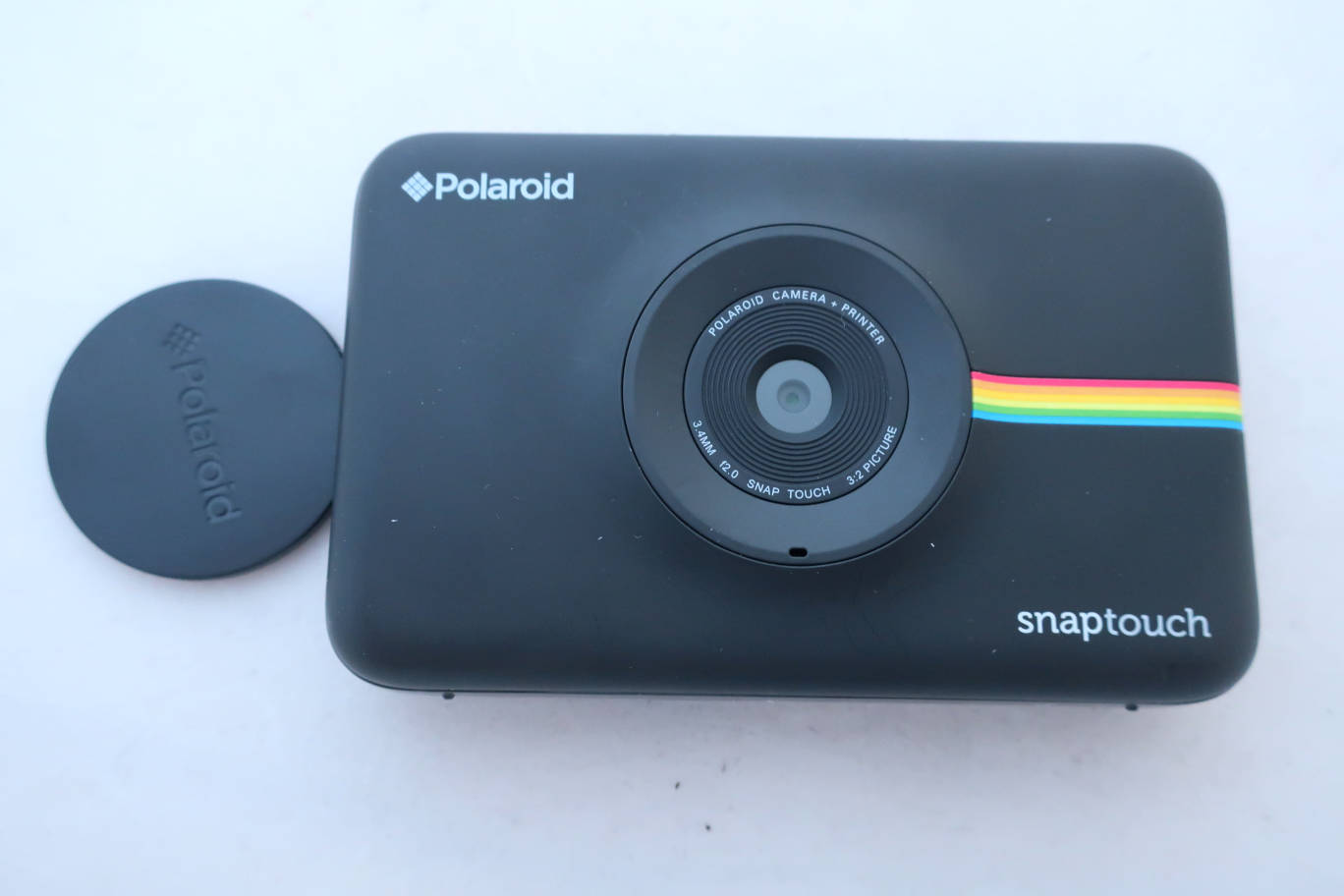 Open, the lid is magnetic.



Turned on. As the on/off button releases the flash mechanically, it has to be pushed in firmly. The selfie mirror next to the flash is (too) tiny. Big shutter release button. The microphone sits in the little opening under the lens.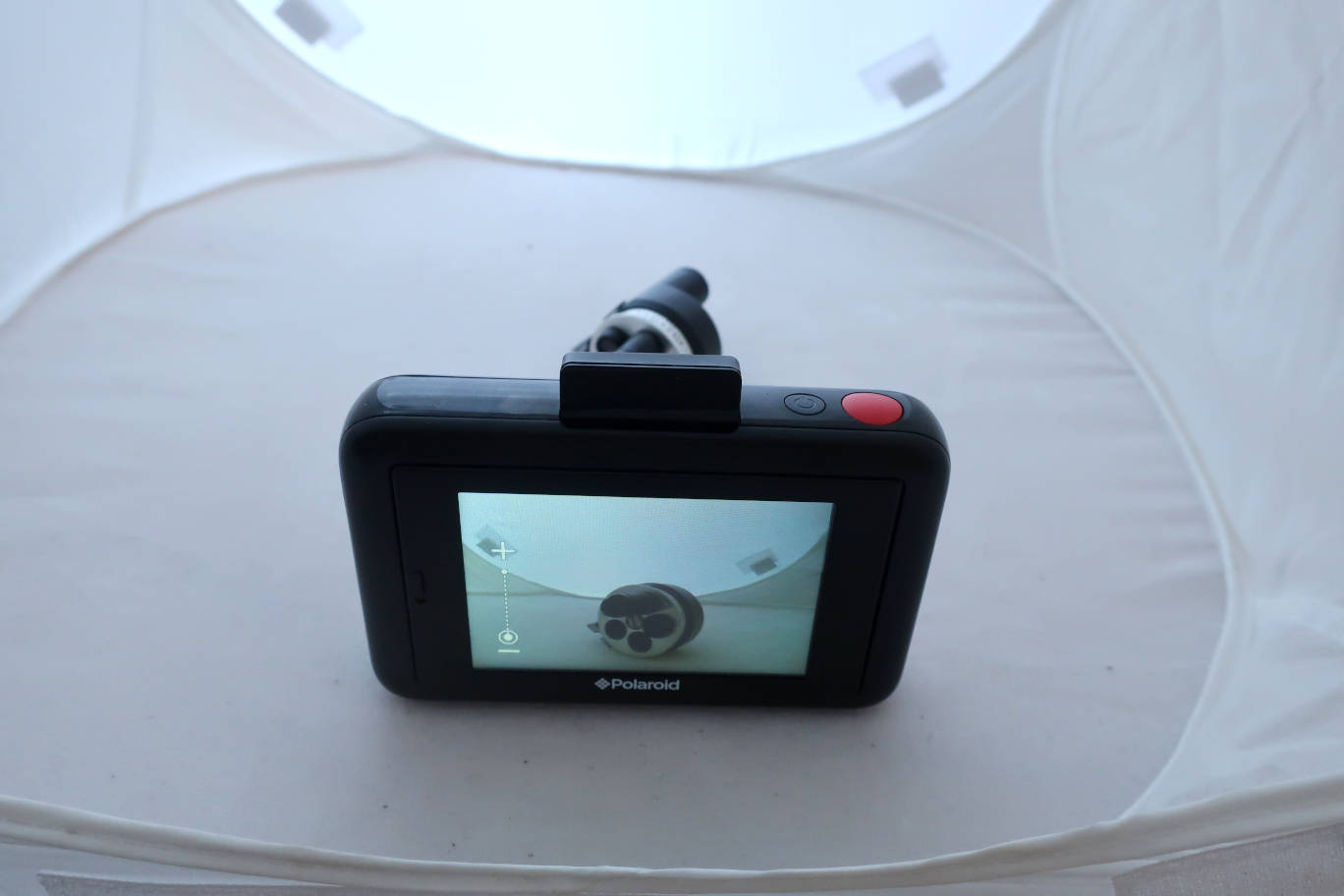 Big 3.5" screen on the back.



Zoomed in.



Bottom. Speaker opening, microSDcard slot, tripod socket, miniUSB socket, reset.


Some technical details:

The 13MP files (4224 x 3168 pixels) weigh around 4.5 MB, they are surprisingly clear. The sensor can't be very large, given the size of the lens. The digital zoom produces more blur, but it's not visible on prints. Zoom or not, the files are always the same size, 4224 x 3168 pixels and the EXIF always says 4mm focal length, but gives you informtion about the flash. The camera automatically adjusts the ISO.

The images are in landscape mode. There is a smartphone app that gives you more choices and lets you print pictures taken with your smartphone. The app pairs via bluetooth and is easy to use.

Specs taken from the web:

Lens: 3.4mm wide angle, 25.8mm in 35mm equiv.
F2-F8
Full-HD video
3.5" LCD Touch Screen 153.000 dots (460k)

Technical Specs from the Polaroid website:

Item Weight: 0.47 pounds = 213 gr.
Product Dimensions: 2.95 x 0.98 x 4.72 inches = 7.5 x 2.5 x 12 cm
Item Model Number: POLSP01B
Removable Memory: Up to 128GB
Additional Features:
Primary Camera: 13 megapixel digital camera
Raise viewfinder to power on. Lower to power off.
Self-timer
6 picture modes (normal, black & white, vintage, Polaroid border logo format in normal, black & white and vintage)
Battery low indicator
No paper indicator
Photo booth mode
Micro SD card slot (up to 128GB)
Built-in lithium ion battery
Available in Black, White, Blue, Purple, Pink and Red

Except short reviews by geeks on pre-production models, handed out on fairs, I have not seen many serious tests. Those I have seen didn't give too good ratings. Let us face it: this is a gadget. It is not a serious camera. BTW: there is little serious information about technical specifications. We know nothing about the size of sensor, nothing about the lens. There are more print features than with Polaroid Pop. Darken/lighten is possible, also printing without frames.

The touch screen is quite big, touch response is OK, but could be better. Focussing is on the slow side and sometimes misses it, especially in low light. I like the possibility to see the pictures before printing, you don't waste paper for bad shots. Battery life is not very long, but other systems that I know are not much better.

For me picture quality is fine. I have compared it to other instant systems on the market, the others are no better. Colours are vivid, resolution is fine and as far as I know Zink paper doesn't fade too quick. The camera is fun to use and makes sharing the photos easy. That's what it's made for: fun and sharing.